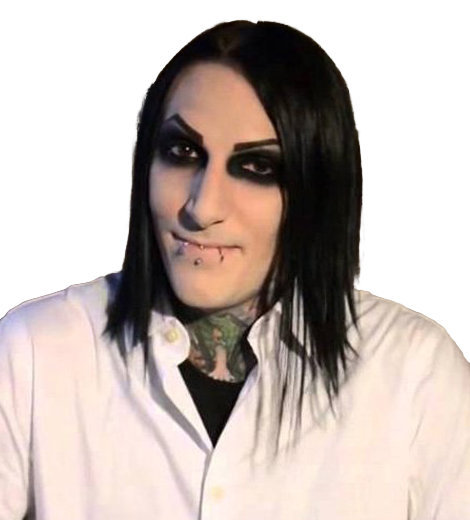 Quick Information
Full Name

Chris Motionless

Occupation

Metal Singer

Nationality

America

Birthplace

Pennsylvania, USA

Born Year And Birthday

October 17, 1986
Chris Motionless | Biography 2021
Chris Motionless is an American metal singer famous as the frontman of the metal band Motionless in White.
---
Quick Information
Full Name

Chris Motionless

Occupation

Metal Singer

Nationality

America

Birthplace

Pennsylvania, USA

Birth Date

October 17, 1986
Chris Motionless is an American metal singer famous as the frontman of the metal band Motionless in White.
Who is Chris Motionless?
Chris 'Motionless' Cerulli is the lead vocalist of the metalcore band Motionless in White. He formed the band in 2005 when he was in high school with drummer Angelo Parente, guitarist Mike Costanza, and bassist Frank Polumbo. The band members departed in the musical journey of the band, but Motionless remained. He is the oldest member of the band now. The band currently consists of Chris 'Motionless' Cerulli (lead vocals), Ryan Sitkowski (lead guitar), Ricky 'Horror' Olson (rhythm guitar), Vinny Mauro (drums), and Justin Morrow (bass).
Motionless with his band has released Billboard-charting rock albums that include 'Creatures,' 'Infamous,' 'The Graveyard Shift,' and 'Disguise.'
Early Life
Chris 'Motionless' Cerulli was born on October 17, 1986, in Scranton, Pennsylvania, the United States. He did not have a pleasant childhood because of his parent's relationship problems, and they soon got divorced.
Career
The harmful effect led Motionless to find comfort in music while growing up. He developed his passion for music in his teens and eventually got into metal music.
"Metallica: Enter Sandman was the first Metallica song I ever heard. I credit them with being a band that came along at a turning point in my life. Once I heard them, I started getting into metal music, which then led to punk music and all the great things in that realm. Not only that, it made me want to play guitar and drums. I was an anxious teenage kid, and I thought, 'I need to do this'," he said.
Motionless's musical career began in 2002 after he founded his first band New Car Smell.
Motionless in White (MIW)
In three years' time, Motionless formed another metal band, Motionless in White, in 2005, along with drummer Angelo Parente, guitarist Mike Costanza, and bassist Frank Polumbo. Josh Balz joined the band as a keyboard player in 2007, making it a quintet.
Album and Music
The band used to perform at nightclubs. Producer Zach Neil observed their performance one evening, and it landed them to sign with the record label Masquerade Recordings. Shortly after that, the band launched their debut Extended Play record (EP), 'The Whorror,' in July 2007. The following year Polumbo and Costanza left the band, and Ryan Sitkowski and Ricky Olson filled their gap. With the new band members, the band released their second EP, 'When Love Met Destruction' with Tragic Hero recordings in February 2009.
The success of their EP's first single, 'Ghost In The Mirror,' motivated the band to record its first studio album 'Creatures' in October 2010 through Fearless Records. The album featured four singles 'Abigail,' 'Immaculate Misconception,' 'Creatures' and 'Puppets (The First Snow).' It charted at number six on the Billboard Heatseeker Albums.
The band released their second studio album 'Infamous' in November 2012. The album debuted at number nine on the Independent Album Chart and number five on the Hard Rock Albums.
In September 2014, the band released their third studio album 'Reincarnate,' the most successful of the three. The album featured five singles, 'Reincarnate,' 'Puppets 3,' 'Dead as Fuck,' 'Break the Cycle,' and 'Unstoppable.' The album sold 31,000 copies in its first week and peaked at number nine on the Billboard 200 chart.
In June 2016, the band released the single '570' on the same day they signed to Roadrunner Records. In 2017, keyboardist Balz departed from the band, and Marie Christine-Allard replaced his position. With the new member, the band released their fourth studio album 'Graveyard Shift,' in May 2017. The album featured the singles that include 'Rats' and 'Loud (Fuck It).' It had also featured Jonathan Davis from the popular nu-metal band Korn. The album topped on the Hard Rock Albums and charted on number five on the Top Rock Albums. In June 2019, the band released their fifth studio album, 'Disguise' that charted at number two on Hard Rock Albums and number four on Top Rock Albums.
Utilizing the free time during the coronavirus pandemic, the band released a four-track EP, 'Another Life/Eternally Yours: Motion Picture Collection' in August 2020.
"With all of the downtime of not touring, we wanted to take the opportunity to try something we've never done before," according to the band. ​"We give you, 'Eternally Yours: Motion Picture Collection' (feat. Crystal Joilena) and 'Another Life: Motion Picture Collection' (feat. Kerli)," it added.
On the 10th anniversary of the debut album, Motionless in White unleashed their powerful debut live performance of 'Creature X: To The Grave.'
​"After 10 years of the most insane highs and lows that a band can experience, we are so proud to hit such a milestone as a record having its 10th anniversary," Motionless said.
Tour
Motionless and his band members of Motionless in White embarked on numerous national and international tours. They began the warped tour in 2005 in support of their first EP, 'The Whorrors.' They started their Vans Warped Tour in 2006, which they concluded in Scranton in 2018 after 13 years of massive touring. In addition to Vans Warped Tour, they also participated in numerous album promotional tours and tours with other bands. They also performed in various festivals, including the Bamboozle Festival in 2009, Soundwave Festival in 2012, and Mayhem Festival, Rocklahoma Festival, and Download Festival in 2013.
In 2010, they commenced on A Winter To Remember Tour, The Thrash and Burn Tour, Entertainment or Death Tour, and Average Guys With Exceptional Hair Tour. The band also went for The Dead Masquerade Tour, Ignite The World Tour, Explosions II Tour, All-Star Tour, and Fearless Friends Tour in 2011.
The band made a live music video for 'Puppet (The First Snow),' during the Vans Warped Tour in 2012. The same year, the band went for The Infamous Tour. In 2013, they went on MIW Summer Tour: Extra Dates in Mansfield, Massachusetts.
In March 2014, the band traveled for a short headlong tour with the bands Like Moths to Flames, The Plot in You, and The Defiled.
In 2017, they again embarked on the Half God Half Devil Tour with In This Moment, touring across the United States and multiple venues around Europe.
The same year, they embarked on The Graveyard Shift Tour. They again embarked on the Disguise Tour in 2019 and the Diseased & Disguised Tour in 2020.
Personal Life
Motionless is currently single since his breakup with the makeup artist and Instagrammer Gaiapatra. In April 2016, he posted a picture with Gaiapatra on his Instagram and hinted at his romantic connection with her. She also appeared in the video clip for Motionless In White's 'Eternally Yours' in 2017. But, he eventually broke up with her.
"I found myself in the fog of not being able to make a decision for my future outside of my career, and that brought up a lot of issues that prevented two people from working towards a future together," he said. "It ultimately resulted in me pushing the relationship away. It's not something I feel positive about. It's a really negative thing that I've done to push that away, just because I couldn't sort myself out. That's another reason that I wanted to get better and seek out some form of recovery," he added.
Previously, Motionless dated his childhood friend Sabrina Malfoy in 2013, but their relationship did not survive for long.
Fact-checking and Ethical Concerns
We assure our audience that we will remove any contents that are not accurate or according to formal reports and queries if they are justified. We commit to cover sensible issues responsibly through the principles of neutrality.
To report about any issues in our articles, please feel free to Contact Us. Our dedicated Editorial team verifies each of the articles published on the Biographyhost.