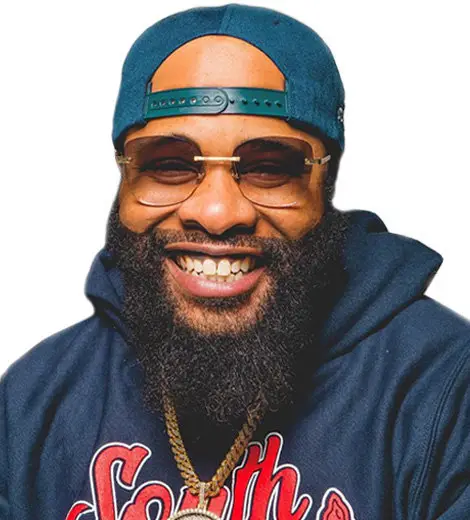 Quick Wiki
Full Name

Anthony Jamal Bean

Occupation

Comedian, Writer & Producer

Nationality

American

Birthplace

Washington, D.C., USA

Birth Date

Feb 20, 1987

Age

36 Years, 9 Months

Nickname

Chico Bean

Zodiac Sign

Pisces

Mother

Wanda

University

Winston Salem State University, North Carolina

Relationship Status

Not Disclosed

Net Worth

Not Disclosed

Children

1 (Daughter Pierce Chanel)
Cast of Comedy Series 'Wild 'N Out'
Chico Bean | Biography 2021
Unlike his dad and uncles, who lived and died on the streets of Washington, D.C., Chino Bean wanted to change the legacy of his family and people. He began doing comedy from the place where comedy was not a breeding spot and grew to be a popular performer among the college circuit. Spotted by the popular American Comedian Nick Cannon, Chico Bean flew to New York and took part in Fresh Faces of Comedy. He has now become the unstoppable face of the improv game show series 'Wild 'N Out.'
---
Anthony Jamal Bean, a.k.a Chico Bean, is an American comedian best known for his recurring appearances on the improv comedy game show Wild' N Out. He's been a fixture on the show ever since the beginning of Season 5, entertaining the audiences through his rap and stand-ups.
Who is Chico Bean?
Chico Bean is a versatile artist carrying multiple titles - comedian, actor, singer, writer, rapper, and producer. He got inclined towards comedy amidst his studies and thus opted to pursue it as a career. He started doing comedy in Greensboro, North Carolina. He eventually gained fame after being discovered by Nick Cannon at the Fresh Faces of Comedy.
Alongside the comedy show Wild' N Out, Bean also worked in the TV movie Wild' n Out: Wildest Moments and on Guy Court. He then appeared as a guest on several TV shows like HuffPost Live Conversations and Steve Harvey. He also starred on Uncommon Sense with Charlamagne and Wild' N on Tour and is famous for producing and starring in The Freestyle Funny Comedy Show. 
Age and Education 
Anthony Jamal Bean, a.k.a Chico Bean, was born on 20 February 1987. He attended a public school, Winston Salem State University in North Carolina, and was an Alpha Phi Alpha Fraternity member. He began performing stand-ups during his school days and eventually made a name through it.
Mother and Family
The nickname Chico through which he has been widely recognized, was initially given by his uncle.
When Bean was two years old, his father was murdered on the streets of his hometown Washington, DC leaving his mother with numerous challenges. In addition, he lost six family members to gun violence.
Unlike his dad and uncles, who lived and lost their lives on the streets, leaving just memories behind, Bean decided and thrived on leaving a different legacy for his people. The title of rapper, which he bears now, was never his spontaneous effort but was influenced by the culture since he was a child.
Raised by a single mother, he never had plans to pursue comedy in his early life, but for now, he wishes to be recognized as one of the best entertainers of all time.
However, in 2021 Bean lost his mother, Wanda. Although he has not disclosed much information on her demise, he informed his fans of the loss through his Instagram on 14 May 2021. He uploaded a picture of final rites and captioned, "To be absent of the body is to be present with God & today we celebrated all you did before you were called home, THANK YOU MOMMY, YOU DID GREAT WORK, NOW REST UP, See you when we get there... #TheChiCode"
He started stand-up in college
While studying, Bean did not plan comedy as a career but as entertainment. He performed at his fraternity, college pageant, and other ceremonies while alongside he was aiming to become a news anchor. However, after he learned that an anchor's starting intern salary was minimum wage, he became dissatisfied with that career and decided to pursue his passion. 
"I started hosting all this stuff for fraternity, all of the pageants and all of that stuff and then when I graduated I went to go get a job where I did an internship. But I thought I was going to be a news anchor right and I went to get a job and they told me I was going to be making 6.25 an hour part-time I was like no I'm not. If I'm gonna be poor struggling, I'd much rather be poor struggling doing something for myself and helping somebody else," he shared on the Ricky Smiley Morning Show. 
Subsequently, Bean first began performing stand-up comedy in 2007 in Greensboro, North Carolina, a city he believed was not a breeding spot for comedic talent. However, after a successful performance as an opener for comedian Chris Wiles, he rose to prominence. 
Also Read About - Emo Philips - Stand-Up, Wife, Net Worth & Bio
As his popularity grew in 2009, he and two other comedians, B-Daht and Darren Brand, formed a comedy group and initiated Freestyle Funny Comedy Show (FFCS). FFCS was an entertaining assortment of genuine stand-up, keen improvisation, and fun interactive games with the audience. DeMar' OsamaBinDrinkin' Rankin Sr. later joined the group. The trio then performed stand-up comedy at a variety of comedy clubs, colleges, and universities.
Encounter with Nick Cannon
FFCS was never left behind on any college circuit. Amidst their performances, Bean was spotted by Nick Cannon, a popular American comedian. He later invited him to New York City to perform in a set for his Fresh Faces of Comedy. Meeting Cannon was a headstart to his career in comedy and acting.
His other Credits
Bean holds his contribution credits as an actor, host, co-host, creative consultant, writer, and producer in arrays of TV shows.
He appeared on the fifth season of the Wild 'N Out TV Series and has continued ever since then. He even worked as a creative consultant for over 129 episodes of the series from 2015 to 2020. Besides this, he also starred in the movie Wild' n Out: Wildest Moments in 2013. He got featured on Guy Court the same year, a comedy series portraying Bean itself.
Also, he appeared as a guest on the TV program HuffPost Live Conversations in 2014 and on one of the episodes of the TV series Uncommon Sense with Charlamagne in 2016. The same year he starred on Wild' N Out on Tour and MTV's Epic Fails of 2016 as a host. In addition, he appeared on Steve Harvey, Trivial Takedown, and Sister Circle in the subsequent years.
Bean also produced and wrote the TV special BET Hip-Hop Award and co-hosted its live session in 2020. His other credits include the Freestyle Funny Comedy Show and a digital comedy show, 85 South.
'Wild 'N Out'
Wild 'N Out is an American comedy game show series created and hosted by the comedian Nick Cannon. It premiered on 28 July 2005 on the MTV channel and has over 15 seasons. The game show shares its stream with MTV's sister network, VH1. 
The show pitches two teams of comedians against each other in a series of titular games, mostly ad-libbing comedy games. The first team was named the Red Squad until Season 5 and later changed to the Platinum Squad and was under the captainship of Cannon. The other group was called the Black Squad, led by a celebrity guest until Season 7. The situation later reversed with Cannon taking over the captainship of the Black Squad team and the celebrity guest leading the Platinum Squad.
Chico Bean on 'Wild 'N Out'
Amused by Bean's spontaneity in creativity and delivery of his stand-up on Fresh Faces of Comedy, Nick Cannon himself flew to North Caroline to audition Bean for Wild' N Out for its subsequent season. Bean had to fly to New York for the second round of auditions. Then he also went on for the third round, which was a group audition. Upon successfully passing all three auditions, he was confirmed as a cast member for the MTV show Wild' N Out. He also acquired the role of writer and creative consultant later in the show.
Supporting Cannon During the Controversy
Nick Cannon, the Wild' N Out brand creator, was fired by ViacomCBS on 14 July 2020, after ViacomCBS learned of his racist and anti-Semitic remarks during an episode of his podcast Cannon's Class with Professor Griff. Upon hearing the news, DC Young Fly, Miller, and Chico Bean, who was considered a potential host for Wild' N Out and capable of taking over the show, expressed their unwillingness to participate in the show without Cannon. 
Initially, after hearing the statement of him having to cut ties with Wild' N Out, the veteran TV host rebuked ViacomCBS on Facebook on 15 July 2020, demanding an apology and full ownership of the brand he established in the game. Shortly after the chaos, he came on Twitter and apologized for his anti-Semitic remarks.
After apologizing, he and ViacomCBS joined hands again to renew his popular improv show. The new episodes began airing on 6 April 2021.
University Stand-Ups 
A popular performer on every college circuit, Chico Bean had commenced his career in comedy through University stand-ups before he gained name and fame on popular TV shows.
Along with the cast member of Wild' N Out, 2017, he entertained the audiences of the University of Nebraska-Lincoln at Nebraska Union Auditorium with jokes about money, weed, and porn. Later in 2019, he performed in the University of Missouri – Kansas City Student Union Theater. 
The same year, Chico Bean and Karlous Miller performed a comedy act at the Florida Agricultural and Mechanical University (FAMU). His major collegiate shows were themed around the broke student life.
"The best takeaway was when they came off the stage and started clowning everybody… Everyone was able to take a joke and it was a really good time," Giniare Ridore, a student at FAMU, said about the duo's performance.
In March of 2022, Bean recently performed at the 'Final After the Dark' Session organized by Iowa State University. 
Daughter
Chico Bean has a daughter named Pierce Chanel. While no information about his wife was disclosed yet, he was seen praising his daughter on social media.
"9 years!!! My baby turns 9 today, I don't know how the time has went so fast but what I do know is that God gave me an angel on earth & I'll cherish her every single moment that I live on it, HAPPY BIRTHDAY PIERCE CHANEL, DADDY ADORES YOU!!!!.," he wrote on his daughter's birthday.
In addition to that, he calls his daughter Wanda which was also his mother's name. He disclosed the reason behind this on his 20 March 2022 Instagram post. Alongside a picture with his daughter, he captioned, "In the absence of my mother, God gave me the best consolation I could ever have, MY BABY got to see me perform for the first time!!!! #TheChiCode #TawandasSon"
Followed by that, he addressed her Wanda alongside a grateful comment on her existence on his recent Instagram father's day post. He wrote, "This is the First Fathers Day Wanda didn't wake me up out my sleep saying 'Happy Fathers Day Baby, what you get me?' But I'm so thankful that instead I was awakened by this Face, SHE IS ME in girl form, yesterday she told me I was dressed like The 'Xbox Logo' I love nothing more on this planet than I do this little girl, HAPPY FATHERS DAY TO ALL THE REAL ONES!!!! #TheChiCode #TawandasSon"