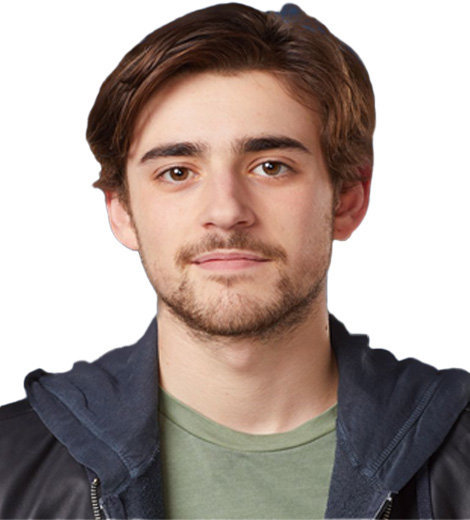 Quick Wiki
Full Name

Charlie John Rowe

Occupation

Television, Theatre & Movie Actor

Nationality

British

Birthplace

Islington, London, England, United Kingdom

Birth Date

Apr 23, 1996

Age

27 Years, 5 Months
Ray Williams on 'Rocketman'
Charlie Rowe | Biography 2021
Rose to Fame as Young Tommy in the 2010 sci-fi romantic film 'Never Let Me Go'
In the 2019 musical biopic Rocketman, Rowe played a young Ray Williams, the man who discovered Elton John. Even though Rowe played a minor role in the film, his character Roy Williams played a pivotal part in Elton John's career as he gave him his big break. Sharing about the character he played in the movie, Rowe admitted, "He's a little bit of a joke in the movie. You're made to feel as if he isn't up for the task, or he's this posh kid surrounded by these music talents." He added, "But I just wanted to portray him as this guy who was into Elton and into his job. I didn't want Ray to feel like he was a joke."
---
Charlie Rowe is a British actor best known for starring Ray Williams in the 2019 musical biopic Rocketman. He is also known for his role in TV series such as Red Band Society, Salvation, and Vanity Fair.
Who is Charlie Rowe?
British actor Charlie Rowe began his professional career at the age of eight, appearing in commercials. At age nine, he played a minor part in the production of The Snowman at Peacock Theatre. His role involved uttering only one word, "Boo." The following year, he earned a role in an episode of the TV series Jackanory. He then went on to play various roles in films and TV series, and his career progressed gradually. 
Rowe first rose to fame when he portrayed the role of Young Tommy in the 2010 sci-fi romantic film Never Let Me Go. His acting career attained new heights from 2014 when he started getting significant roles in several TV series such as Red Band Society (2014-15), Salvation (2017-18), and Vanity Fair (2018). In 2019, he played a breakout role of real-life character Ray Williams in the biographical musical film Rocketman, based on the British musician Elton John. 
Early Life and Education
Charlie John Rowe was born on 23 April 1996, in Islington, London, England, United Kingdom. Born to a drama teacher, Sara, and an actor and writer, Chris Rowe, he has a sister named Matilda. 
When he was eight years old, he became interested in pursuing two jobs: acting and directing. He explained in an interview, "Cause I'd like to act for 15 years and then direct for 15 years."
Later, he studied A-levels in theatre studies, English literature, music, and photography.
Early Career
Rowe got his first professional job when he was eight years old. It was for a commercial for a toy game called Subbuteo. During an interview with Interview magazine in September 2014, he recalled the first on-screen job he landed at an early age. "I was eight years old, but it was just a commercial. I don't know if you have it over here, but it was for this toy game called Subbuteo, which is like finger football—finger soccer. You flick the players with your fingers. It's like a football board game, almost. It was all very fun because I got to dress up as soccer managers. God, I remember it well." 
The following year, he made a stage appearance when he got the role in the production of The Snowman at Peacock Theatre. He played as a young boy, sharing the role with other young actors. He had to only say one word, "Boo," for the part.
In an interview with Evening Standard in March 2013, he reminisced his experience at the theatre, "I regard this as my theatrical debut." He continued, "What a production. What a theatre. The history in that rehearsal room is just unbelievable. The first day I went to the loo and in the bathroom there's a massive picture of Olivier himself. I'm so excited."
TV Shows and Movies
In 2006, at age 10, Rowe made his on-screen debut on an episode of the long-running TV series Jackanory, in which famous actors, including Helena Bonham Carter, Ian McKellar, and Peter Sellers, starred. He appeared in the series' episode 'Muddle Earth' as Joe Jefferson, an ordinary boy who had been summoned to a medieval fantasy world "full of monster, mayhem, and more" called Muddle Earth by the wizard Randalf.
The following year, he made a big-screen debut in the 2007 fantasy adventure film The Golden Compass, an adaptation of Philip Pullman's novel 'His Dark Materials' trilogy, portraying the role of a young Gyptian named Billy Costa. He then appeared as James in the 2009 British musical comedy film Pirate Radio. That year, he garnered strong notice for his role as Young Robin in an episode 'Bad Blood' of the TV series Robin Hood (2006-2009).
Young Tommy on 'Never Let Me Go'
Rowe rose to fame in 2010 when he starred as Young Tommy in the sci-fi romantic tragedy film Never Let Me Go, alongside Andrew Garfield, Carey Mulligan, and Keira Knightley. The film was based on Kazuo Ishiguro's 2005 novel of the same name. The film was one of his favorite projects he did since that was the time when he realized what he was doing. He admired working with fellow cast members, especially Andrew Garfield, who inspired him to be a smart, good actor. 
'The Nutcracker: The Untold Story' and 'Disco'
That same year, he landed a major role as The Prince/Nicholas Charles in the 2010 British-Hungarian Christmas fantasy thriller film The Nutcracker: The Untold Story, adapted from the ballet The Nutcracker. His next significant role was Greg in the 2010 short comedy-drama Disco. 
In 2011, he starred in SyFy's fantasy-adventure TV mini-series-styled movie Neverland, a prequel to the story of Peter Pan. He played the role of an iconic character Peter, a 14-year-old pickpocket who, along with his young gang, is mentored by the pickpocket gang leader Jimmy Hook played by Rhys Ifans. 
In an interview with Collider, Rowe shared that the project's director called him up for further auditions after Rowe attended the first audition. "Originally, I went up for the part of Fox, who's Peter's best friend. I read the script and I was just like, "Oh, it's such a great script! I really want to play Peter!" So, I met (writer/director) Nick [Willing] for the second time because I met him when I was about nine. I did a short film with him. And, Nick called me the day after my auditioned and was just like, "I want you to read for Peter," which was amazing. And then, I did a couple more auditions, and then got told I had the part. I danced around my house ecstatically, for several days."
Two years later, he starred as a modern-day human, Ricky, in the 2013 family-adventure film Walking with Dinosaurs 3D, which featured computer-animated dinosaurs in live-action settings.
In 2014, Rowe starred as Alec on The Secrets, a five-part series of stand-alone stories in the episode, 'The Visitor.' 
Lead Roles
Rowe's acting career started to attain new heights in 2014 as he started getting lead characters in several TV series. He starred as Leo Roth in Fox Network's comedy-drama series Red Band Society (2014-15), Liam Cole in CBS's summer suspense drama series, Salvation (2017-18), and George Osborne in ITV's historical drama mini-series Vanity Fair (2018), adapted from William Makepeace Thackeray's 1848 novel of the same name.
In 2019, he made a breakthrough performance as Ray Williams in the biographical musical film Rocketman, based on the life and music of British musician Elton John. He then appeared as Jaime in the 2020 British short film The Forgotten C, which focused on the effects brought up by the coronavirus pandemic.
'Old Vic' Youngest Lead
At age 16 in 2013, Rowe performed in Terence Rattigan's The Winslow Boy at the Old Vic theatre, becoming the youngest ever lead in a production at the Old Vic theatre. In the play, he portrayed a 14-year-old Ronnie Winslow who gets expelled from the Royal Naval College after being accused of stealing a postal order. Later his father, with the help of his friend and family, vows a concerted effort to clear Ronnie's name. The play was based on a true incident in the Edwardian era.
'Red Band Society'
From 2014 to 2015, Rowe starred on the Fox Network's Red Sole Society, playing the role of an 18-year-old Leo Roth, who meets several teenage patients at a Los Angeles hospital. In the series, the group of teenagers live at the hospital and create a new life for themselves.
On Auditioning for the Role
He auditioned over Skype facing the show's director and writer, who made him do the audition in two accents. Rowe explained, "They made me do it in an English accent and an American accent, and they decided they liked the American accent. I was very pleased with that. Then they cast me about two weeks later. It was all very, very quick."
He continued, "I think it was Steven Spielberg who said, 'No, his accent's good' or 'We can get it better, we can work on it.' It would've been silly if they just had a British boy in the show. There are already cheesy moments because it's a network show, but if there was a British boy in an American hospital it would've been very heartthrob-y and stupid. It would've been absolutely ridiculous so I'm very glad they didn't go with that. And it allows me to work on my accent, which is good training."
'Salvation'
Rowe played his next significant role in the sci-fi thriller TV series, Salvation, from 2017 to 2018. He starred in the role of Liam Cole, an MIT grad student who, along with a billionaire scientist named Darius Tanz, tries and works out a way to change the course of the asteroid that is set to destroy Earth.
The show was originally developed at CBS during the 2013-14 development season, but it premiered only on 12 July 2017. Later in October 2017, CBS renewed the series for Season 2, which premiered on 25 June 2018. Eventually, CBS canceled the summer drama series after two seasons.
'Rocketman'
In the 2019 musical biopic Rocketman, Rowe played a young Ray Williams, the man who discovered Elton John. Even though Rowe played a minor role in the film, his character Roy Williams played a pivotal part in Elton John's career as he gave him his big break.
Sharing about the character he played in the movie, Rowe admitted, "He's a little bit of a joke in the movie. You're made to feel as if he isn't up for the task, or he's this posh kid surrounded by these music talents." He added, "But I just wanted to portray him as this guy who was into Elton and into his job. I didn't want Ray to feel like he was a joke."
'Vanity Fair'
Directed by James Strong, Rowe appeared in the historical drama miniseries Vanity fair in 2018 . The series was an adaptation of the 1848 novel by William Makepeace Thackeray. He played the character of George Osbourne whom he found pretty much repulsive at first and for him it was really hard to relate with his character. However, as soon as Rowe comprehended Osbourne's relationship to his father, then he started to figure it all out.
He was elated to be accompanied by various talented British cast and crew during the shooting of Vanity Fair. "We managed to form this tight-knit family almost instantly. It changes the project completely when you all get on. It was immediately comfortable throughout the rehearsals. We felt like we created this safe space. They were the best part", Rowe expressed to Vogue.  
Rowe's audition procedure for the miniseries was typically a modern one. He was working over in Canada when he got the audition call. He received a message from the director asking to Skype for talking through the scene but the Skype call didn't run smoothly as there was no signal. Consequently, Rowe had to send an email to the director with the recording of him executing the scenes with the notes the director had provided. After a week Rowe was selected for Vanity Fair.  
As the miniseries was based on the novel, Rowe had two months to discover the universe of Vanity Fair before the filming started. Although he was aware of Thackery, he didn't know the story and he didn't study it at his school. Rowe brought the novel and made his efforts to do background work, without being familiar with any other cast, and without even stepping in London. He arrived in London just three days ago before the filming process took place.
Shooting the Battle of Waterloo remained Rowe's one of the most exciting moments throughout the series. He was literally scared when French Napoleonic soldiers walked towards his clan penetrating through the smoke and he had never felt that environment before. During this scene, Rowe did all the horseback scenes himself as he took numerous horse riding lessons.
In the series, Rowe's character Osbourne doesn't get his father's approval to marry his love Amelia Sedley and that's when everything turns upside down for Osbourne. He gets quite confused and feels like his life is being torn apart. However, Osbourne defies his father and stands up against his father which is an absolutely difficult thing for him. When Rowe went through this part in the script, he really felt very pleased for Osbourne as he stood up for himself and defended his choice.
As the miniseries was set in a historic period and it was very far from the current era, Rowe's biggest challenge was to personify his character Osbourne and to deliver the lines.
The series was shot in the actor's native country. "There's something about filming in London that I got very excited about, especially being a London boy, it was a dream come true", Rowe told HuffPost. 
It took around 4 months to film the entire seven episodes of the series.
'Spider-Man'
Sony and Marvel Studios took screen testing of both actor Tom Holland and Rowe, with Iron Man actor Robert Downey Jr and Captain America actor Chris Evans to analyze their chemistry. Holland got selected in the audition process, which landed him to play the Spider-Man. 
After Holland's casting was made public in June 2015, Rowe congratulated Holland on winning the part. He extended his best wishes to Holland through Twitter, writing adjacently to a picture of himself as a kid in a Spider-Man costume, "Well done @TomHolland1996, glad that Tom's a mate, pleased for him. I thought I could've made quite a good Spider-Man."
The movie was released on 28 July 2017.
'The Forgotten C'
The Vanity Fair star played the role of Jamie in the 2020 short movie The Forgotten C. With a show time of 15 minutes, the movie was directed by Molly Manning Walker and premiered online on 24th September 2020. It earned 7000 views during the first week of release.  
The Forgotten C was commissioned explicitly in response to the Covid-19 pandemic. The movie was produced following the government standard guidelines.
The movie presents Aisha, a character dealing with the Coronavirus crisis, who struggles to express what's going on with her and about her emotions to her friends and family.
'Robin Hood'
Rowe has also marked his appearance on Robin Hood. He portrayed the role of young Robin in the 10th episode of season 3 named as 'Bad Blood'. The series comprised 39 episodes and aired from 2006 to 2009.
'The Golden Compass'
Directed by Chris Weitz, Rowe played the small role of Billy Costa in an Oscar-winning movie, The Golden Compass. Released on 7th December 2007 The Golden Compass grabbed the 2008 'Oscar Award' in the category of 'Best Achievement in Visual Effects' and was also an Oscar nominee for 'Best Achievement in Art Direction.' Similarly, it also won the 2008 'BAFTA Film Award' in the category of 'Best Special Visual Effects.'