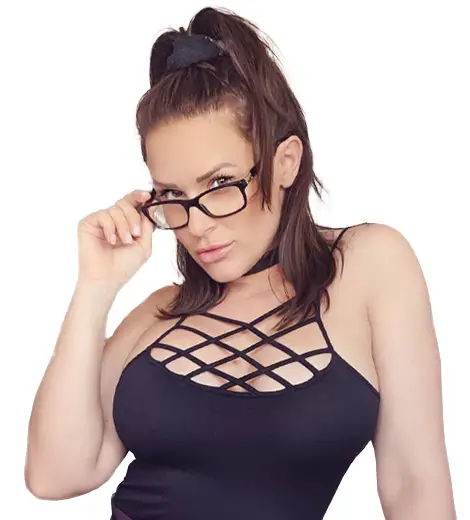 Quick Wiki
Full Name

Carrie LaChance

Occupation

Professional model, Social media influencer, Entrepreneur

Nationality

American

Birthplace

Dover-Foxcroft, Maine

Birth Date

Apr 30, 1985

Age

38 Years, 4 Months
Owner Of Luxe My Body
Carrie LaChance | Biography 2021
More than a decade after her initial entrepreneurship venture in 2019, Carrie LaChance launched her own clothing line Luxe My Body, which specialized on luxury hosiery. Her product accommodated varieties of sizes, shapes, and colors. They became popular and started selling online through her website because of LaChance's online star power
---
Carrie LaChance is a professional model, social media influencer, and entrepreneur whose online popularity and refined use of social media have propelled her from an internet model to a celebrity household name.
Who is Carrie LaChance?
With millions of fans across the globe, LaChance has made a mark for herself as a model, actress, social media influencer, and businesswoman. She has appeared on the pages of several magazines and media platforms such as Maxim, Playboy, Fox News, and Spike TV. She has also acted in short movies such as Trailer Trash (2005) and Webgirl (2014). Because of her immense fan following of more than 3 million followers (Facebook, Instagram, and Twitter combinedly, as of 25 May 2021), CBS News Channel 13 has described her as 'a walking talking billboard.'
In addition to being an accomplished model, LaChance is also a successful businesswoman and entrepreneur. She owns a production company and has her own clothing line. Her company, High Heels Production, is a production studio that operates from Dallas, whereas Luxe My Body's clothing line is a high-end hosiery selling brand.
Early Bio
LaChance was born on 30 April 1985 at Dover-Foxcroft, a small populated town in Maine. A small-town girl, she aspired to be an actor and model from a very young age. Hence, after graduating from high school in 2003, she went to beauty school to study Cosmetology.
Despite being a licensed Cosmetologist, LaChance had to take multiple jobs to make ends meet. She worked as a cashier, hostess, telemarketer, and even as a pizza delivery driver.
Modeling Career
While working at a local restaurant, she was spotted by a photographer who gave her an opportunity to be a model in one of his photoshoots. Taking her chance, she scheduled her first shoot that same day. Many shoots followed after that and hence began her modeling career in 2004 in Maine at the age of 19. After the career start, she would find her career journey filled with struggles.
"When I first started modeling I thought I was going to immediately become the world's next top model lol. Little did I know how many struggles I would go through and the years of hard work and dedication it would take to get where I am today. I've wanted to give up time and time again, but that little voice inside my head kept saying 'Carrie you can do this' so I kept pushing forward", she told Innocent Magazine in 2015.
She further added about the poses she loved to strike during photoshoots on the same magazine interview, "I love anything edgy and sexy. Glamour because I've learned how to appreciate being comfortable in my own skin and embracing my sensuality and sexuality. Nothing compares to bringing a little Fifty Shades of Grey to a photo set. Whips and chains and gags oh my lol! Maybe I'm not as innocent as I say I am;-p",
Movie career
As her modeling career took off with features in various magazines, including the famous Playboy Magazine, she also tried her hands in cosplay and acting. LaChance's first acting gig was in 2005 in a short movie called Trailer Trash, where she played the role of Charlene. Then in 2010, she appeared in two films—Inn Season and She Feast portraying the role of Carrie Meyers and Val, respectively.
The very next year, she portrayed the role of Megan in 2 Grand. Then in 2014, she appeared in Webgirl as Paige/Christy.
She ventured further in the industry as a wardrobe supervisor in Webgirl and as a producer and wardrobe assistant in She Feast.
Business Career
While LaChance was modeling and acting, she also started looking into establishing her own business venture. In 2006, she became the co-owner of Arch Enemy Studios. It was the same production company that introduced her to the world of modeling. She would also witness the company doing business in retail footwear, lingerie, and other dresses during her time modeling. 
"I started my modeling career at the young age of 19 in the small state of Maine. My desire to work for myself and be an entrepreneur proliferated. I went out on my own and started my first business at 20 and opened my own retail shop selling lingerie, heels, corsets, and other novelty items," shared LaChance in an interview. 
Entrepreneurial Ambitions
With time, LaChance got better at different aspects of handling a business, including marketing and branding. So, in January 2007, she established her own company named High Heels Production LLC, based in Dallas, Fort Worth Area. In 2019, she also launched her clothing line, Luxe My Body.
High Heels Production LLC
LaChance initiated High Heels Production LLC as she was passionate about high heels after developing interests through her regular modeling shoots. Then in 2008, she launched her personal website CarrieLaChance.com where her fans can get exclusive content, including photos, videos, and even her closet collectibles.
"I then went on to open a production company focusing on pinup style photography and video that is still in operation today. My love for hosiery and heels has always been at the forefront of my brand, so when I decided to launch my own brand of luxury hosiery in 2019, Luxe My Body, it was a natural fit for me," explained LaChance how she progressed on her entrepreneurship journey till 2019.
Luxe My Body
More than a decade after her initial entrepreneurship venture in 2019, she launched her clothing line Luxe My Body, specializing in luxury hosiery. Her product accommodated varieties of sizes, shapes, and colors. They became popular and started selling online through her website because of LaChance's online star power.
On scaling up her businesses and building Luxe My Body, she said: " I didn't expect it to take off as fast as it did, but we sold out of our entire first run of inventory online in the first two weeks. I had to scale up quickly and restructure my business plan to scale faster. I've grown my social media accounts to over 3 million, and they have laid a great foundation to push Luxe My Body. I'm excited about the future of my new company and can't wait to introduce new products to our line." 
"My Carrie LaChance brand is known for a unique style of pinup always featuring high heels and hosiery. My fans love the new age twist I put on pinup in my photos and videos. Luxe My Body fits in perfectly because I sell the very thing I have always worn in my photos, luxury hosiery. I'm most proud of how far I've been able to take my company all on my own without help from anyone else.", she further added on the peculiarity of her business.
Issues During Development
When she first started her clothing company, Luxe My Body, she ran into a slew of issues. She had to switch manufacturers several times before she was satisfied with the quality and design. She spent a lot of time testing fabrics, refining sizing, quality assurance, and the list goes on and on. 
"Ask anyone who knows me, they will tell you I am the most persistent person they know," she told Voyage Dallas on her determination to take upon her business venture despite the challenges.
On Conquering Life's Obstacles 
In an interview with Voyage Dallas, LaChance stated that she had never been lucky in her life. She ran into major obstacles like every other start-up, and it was her dedication and hardship that got her to where she is now, overcoming every obstacle that came her way. Despite the difficulties, she stated that she would not change her career path or venture.
"I'm not afraid to work hard and put in the time needed. I don't sleep lols all I do is work or think about work. I am however extremely lucky to be surrounded by people in my life that have been loyal and supportive over the years and that have played an instrumental role in my success," she shared
Social Media Followers As Of 25 May 2021
With her subsequent popularity in modeling, LaChance then turned into a social media influencer. She started her YouTube channel in January 2010. She first uploaded her modeling trailers and commercials and then moved towards high-heel reviews, which gained thousands of views and promoted her influencer profile. More than 57,000 people are subscribed to her youtube channel.
She maintains three Instagram handles at the moment, each operated for varied purposes. In her main handle with username (carrielachance), she posts her pictures and also promotes her clothing line. She has around 1 million followers. Her second account, (carrielachancebackup), has over 4,000 followers. It seems to be her backup account. 
Her third account, (carrielachancemodel), has substantial followers, over 140 000. There, she posts pictures from her photoshoots. Also, she has referred to the username as a model. 
She is also available on Twitter as Carrie LaChance and has more than 108,000 followers there. She has 3.1 million followers on Facebook.
Parallel to her modeling, acting, and business, LaChance also operates her OnlyFans page. She shares behind-the-scenes photos and videos with her fans on a pay-per-view or paid subscription basis.
Interesting Facts
Her favorite movies are The Notebook, Titanic, Avengers, and Crazy Rich Asians, whereas her favorite TV shows are Dark Angel, Firefly, Vampire Diaries, Breaking Bad, and Game of Thrones.
She has been called a 'walking talking billboard' due to her expertise as a professional model, social media influencer, and entrepreneur.
Her favorite food is ham and green pepper pizza, while her favorite drink is a sweet wine and anything with Malibu.
LaChance's hobbies are shopping, traveling, going to the movies, and dining out.
Fact-checking and Ethical Concerns
We assure our audience that we will remove any contents that are not accurate or according to formal reports and queries if they are justified. We commit to cover sensible issues responsibly through the principles of neutrality.
To report about any issues in our articles, please feel free to Contact Us. Our dedicated Editorial team verifies each of the articles published on the Biographyhost.