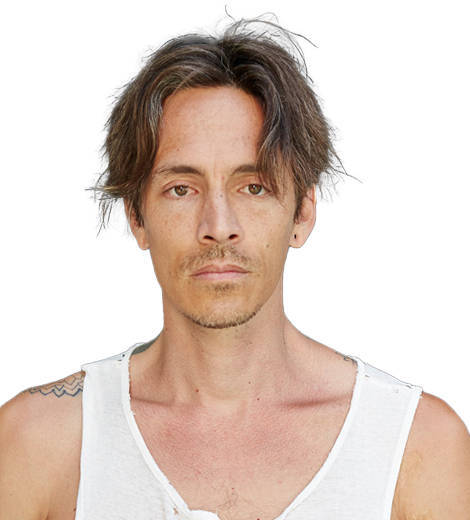 Quick Wiki
Full Name

Brandon Boyd

Occupation

Singer, Songwriter

Nationality

America

Birthplace

California, USA

Birth Date

February 15, 1976
Brandon Boyd | Biography 2021
Brandon Boyd is an American singer, songwriter, musician, and visual artist, famously known as the lead vocalist of Incubus. 
---
Brandon Boyd is an American singer, songwriter, musician, and visual artist, famously known as the lead vocalist of Incubus. 
Who is Brandon Boyd? 
Brandon Boyd is the lead vocalist of the infamous rock band Incubus and alt-rock duo Sons of the Sea. Boyd acquired the strength of expressing his thoughts through art from his parents. Right from his childhood, Boyd used to draw and explore his imagination in various creative ways to put it on paper.  
When Boyd was in high school, he joined a local band with his friends and started playing songs around the neighborhood. They eventually named their band Incubus.
In 1995, they released their first album, after which they landed a record deal. Boyd was doing college at the time. He then discontinued his studies and started working on music. 
The crew wrote hard-rock music and experimented with it in their first two albums. Their third album was a breakthrough composition, after which they kept on touring and working on further releases. 
Boyd, along with the band, pursued a solo career in music and visual arts. He published two solo albums and three visual art books. He is an avid exhibitionist of his art and has showcased his talent in numerous art fairs. 
Early Life
Brandon Charles Boyd was born on 15 February 1976 in Van Nuys, California. Both of his parents – father Charles Boyd and mother Priscilla 'Dolly' Wiseman, were artists. They were the reason behind Brandon and his siblings artistically expressing their thoughts and ideas. 
Boyd and his younger brother Jason used to fight when they were young. Their mother distracted their fights with a creative idea by making them play brain games or scribbling games. Hence, he was raised in an imaginative environment, which led him to pursue expressions in art from a young age. 
Boyd went to Calabasas High School and graduated in 1994. He did his college for just two years at Moorpark College, and then he went on to form Incubus. Prior to this band, Boyd was set to attend the music school, and he had received a scholarship for the same. But he chose to make music instead. 
Career 
Boyd joined a band when he was in high school in 1991. Apart from Boyd, the band included Mike Einziger, Alex Katunich, and Boyd's elementary school friend Jose Pasillas. Though Boyd was taken in the crew for his singing abilities, he was added as the last essential element to the band. They then started writing songs for the vocal coverage and gained popularity in their neighborhood. 
The team members came up with the name Incubus, randomly from the dictionary during their first show in their friend's house. After the show, Boyd initiated making posters about their concerts. He used to draw on the posters himself and advertise the band's upcoming performances. He once copied drawings from a sex education book to attract people but stopped soon after their listeners started asking questions on their representation. 
They released their first album, 'Fungus Amongus,' in 1995. In 1996, they landed a record deal with Immortal Records and began making releases.
'Incubus'
The major label debut of Incubus was in 1997. It was a six-track album titled 'Enjoy Incubus.' 
'S.C.I.E.N.C.E.'
The same year on September 9, they released their second album, 'S.C.I.E.N.C.E,' which stands for Sailing Catamarans Is Every Nautical Captain's Ecstasy, as per band members. It was a heavy metal composition in which they experimented with songs like 'Redefine' and 'Idiot Box.' It was the band's first album to be certified Gold by The Recording Industry Association of America (RIAA). Due to the band's heaviest and most experimental work, the album stayed a fan favorite for many years.
'Make Yourself'
The third release was in 1999, and this hard rock album was titled 'Make Yourself.' It was one of their successful compositions with the main track 'Stellar,' while other tracks include 'I Miss You' and 'Drive.' At the beginning of recording this album, the band tried to work with S.C.I.E.N.C.E. producer Jim Wirt, but he didn't show interest in collaboration. They even thought of recording the album without a producer, but they eventually brought in Nirvana producer Scott Litt for assistance. Recalling their collaboration with Scott, Boyd said, "Scott really honed in on what the singles were going to be and he dedicated a lot of sonic energy to 'Drive' and 'Stellar.'" He added, "We definitely got a real sonic boost when he came on board."
Upon the completion of the album, the band released it, choosing the track 'Pardon Me' as the lead single of the album. Soon they started getting requests to play this lead single on the radio and they heard their song on the radio for the first time. Sharing how the band was approached by radio and their first experience of listening to their own song on the radio, Boyd said, "Then we started getting requests to go play 'Pardon Me' acoustic on morning radio shows and that kind of helped propel people's interest in it and then the actual album version of 'Pardon Me' began to get picked up. So it came out and got a couple of little hits here and there and it was the first time any of us had heard our music on the radio but it wasn't met with any kind of fanfare so we kind of had to go in and massage it."
After massaging, 'Pardon Me' climbed steadily on radio as it debuted at number three on the 'Modern Rock Tracks' chart and number seven for 'Mainstream Rock' chart, becoming the band their first bonafide hit number. Their next track 'Stellar' climbed to number two on the 'Modern Rock Tracks' chart and position 17 for 'Mainstream Rock.' But their biggest success came with 'Drive,' a song based on how Boyd tackled fears in his life. It became the band's first track to peak at number one on the 'Modern Rock Tracks' chart. The track also hit number eight for Mainstream Rock radio and also became their first Hot 100 hit, climbing to number nine.
Other Albums
On 23 October 2001, the band released their fourth album Morning View, featuring aggressive numbers like 'Circles,' 'Blood on the Ground,' and 'Under My Umbrella.' Followed by 'Morning View' in 2001, 'A Crow Left of the Murder…'  was released in 2004, which included their superhit single 'Megalomaniac.' In 2006, they released 'Light Grenades,' including tracks 'Quicksand,' 'Dig,' and 'Love Hurts.'
By 2007, Incubus was constantly touring, simultaneously working on their music for future albums. The band had reached the top of the billboards chart and gained a significant audience. 
Consequently, in 2008, the band announced that they were taking a break from touring and recording to focus on their personal lives for the time being. Boyd joined a college in Los Angeles to get an arts degree but could do only a semester. 
Upon leaving the art school, he was told to complete homework, for which he reacted, "It was really fun, really educational, but I figured out – at the time I was in my mid-30s – that I was just overdoing homework. My appreciation for being my own boss skyrocketed that day." 
But, by mid-2009, Incubus was ready with another album, 'Moments and Melodies,' followed by 'If Not Now, When?' in 2011, 'Trust Fall' (Side A) in 2014, and the band's eighth studio album '8' in 2016. Released on 21 April 2017 through Island Records, 8 was co-produced by Dave Sardy and Sonny John Moory, a.k.a. Skrillex. The album was composed of 11 tracks, including 'No Fun,' 'Nimble Bastard,' and 'Glitterbomb.' It featured the synth-heavy, AAA pop/rock stylings and pleasing guitar works.
Their recent album was 'Trust Fall' (Side B), with the opening track 'Karma, Come back,' released in 2019. Immediately after the release of the album, the pandemic hit the cities. Boyd told NME in August 2020 that the pandemic separated the band members to work for Incubus' new album and they will start working for it once they get back together. He said, "We're definitely gonna make more records. It's just the coronavirus situation has kept us from being in a room together. Our band room is sitting there disinfected and just pregnant with potential, but we haven't been able to get in there yet. So as soon as we can get in there, we are going to be very excitedly writing because there's a whole universe of things to write about."
Boyd illuminated the position of music on a person's everyday life, "We allow music to be a way of expressing ourselves, not only through a way of writing or performing it but by way of absorbing it – listening to it and experiencing it. I can say that the music I listen to does impact me on a daily basis. Sometimes I catch myself lost in it. I tuned into a song, someone starts talking to me like, 'Hey, what should we have for dinner?' And I'm like, 'Oh, I'm sorry. It's dinner time?' It's a lovely escape of sorts. So much of our musical experiences serve as an escape and whisking us away from our current situation. Music really can be an avenue for arriving. It can also bring in a lot of realizations. So, it's not only an escape but a mechanism to transport you to relatively profound realizations of who you are."
New album
As the coronavirus pandemic lengthened, Incubus band members utilized an online medium to work on their new projects. In an interview with The Green Room With Neil Griffiths podcast in March 2021, he said that they have been "doing weekly band Zoom meetings for the last, like, year or so." He teased that Incubus would probably release a new record in 2022.
During the interview, Boyd also revealed that they are working on a couple of projects to celebrate the 20th anniversary of their fourth album Morning View, which was released in October 2001. About their album Morning View, he said, "It was a very successful record for us and it was... it kind of thrust us onto the world stage."
Solo Album: 'The Wild Trapeze'
Boyd released his first solo album, The Wild Trapeze, in 2010. Subsequently, he released the music videos of the leading tracks of the album 'Runaway Train' and 'Last Night a Passenger' in June and October of 2010. The album was composed of 10 tracks, which were all penned and sung by himself while also performing most of the musical instruments. He played scratchy, distorted guitar on 'Here Comes Everyone' and intricate harmonies on 'Runaway Train.' The album also featured songs like 'Courage and Control' and 'All Ears Avow!'
Boyd's poetic lyrics with his rock voice and instrumental distortion made every track of the album exuberant. Boyd also designed the album's artwork and co-directed the video for 'Runaway Train' with photographer Brantley Gutierrez. For producing the album, Boyd hired record producer Dave Fridmann.
After working nearly two decades as frontman of the Grammy-nominated band Incubus, Boyd embarked on a solo album to have a personal, untethered experience, what he calls "music for music's sake.' Boyd described his solo musical journey, "This group of songs was born of a very different process than the many my band and I have been employing for our almost two decades at work now. The Wild Trapeze began as pot-induced meanderings on my dusty acoustic guitar while Incubus was off of the road, and has slowly been morphing into things that I originally could never have imagined." He added, "So much of my identity, both personally and creatively has been attached to and related to Incubus. For better or worse! And I do believe that every person in every corner of the world asks themselves at some point on their ride, 'Who am I ... today?' The Wild Trapeze is an exercise in self-reliance."
'Sons of the Sea'
Further, in 2013, Boyd announced his new project, a duo band Sons of the Sea. He formed the duo with the Incubus producer Brendan O'Brien to explore his creative energy on alt-rock as the Incubus was in a long-term hiatus. The self-titled debut album was released the same year. 
Commenting and comparing his working experience in Incubus and Sons of the Sea, Boyd said, "Incubus has been a band for 22 years, but after seven albums and getting out of our contract, we'll make a record when it's the right time. I'm actually really excited… It's been good. It's so different from the first independent release that I did the very first album that Incubus ever put out. We put out a record called Fungus Amongus in the very early '90s when we were graduating high school. So, this feels completely new again because there's not a label behind it. There's not a major push behind it. It's humbling in many ways but it's also so joyous too, to put out music under these kinds of circumstances, just purely for the love of music and loving music."
Then in 2015, he recorded the song 'Steam to the Rose' with Sons of the Sea for a documentary he was working on titled 'Becoming Bulletproof.'  
New Solo Album: 'It's Super Dark'
When the coronavirus pandemic began in early 2020, Boyd started writing music for his new solo album to utilize his time in lockdown. Appearing in an episode of The Green Room With Neil Griffiths podcast in March 2021, Boyd said, "It wasn't really in my sights to do a solo record anytime soon until the COVID lockdowns began." He added, "This was a really unique year. It was a really unique opportunity to turn inward... I'm in the process of mixing the record and listening back to it. It's super dark, it's lonely, it's horny, it's scared, but with inflections of hope and inflections of light and inflections of perspective that push through." He continued, "I suppose it's not terribly dissimilar from other songs that I've written, but it's just unique because I recorded it at home literally over FaceTime calls with a new writing partner of mine. He was building tracks at his house and then he would email them to me and then I would write to them and write lyrics and melodies and then record them here at my house and send them back to him. It was fun."
During the interview, Boyd hoped to release his new solo album in mid-2021. Further describing the record label and distribution of the album, he said, "I'm an independent artist, Incubus is also independent. We don't have a record label and so I'm probably gonna work with some type of administrative distribution thing with a label of some kind."
Art and Publications
Boyd, alongside his music career, was active in publishing his art. His published books are 'White Fluffy Clouds' (2003), 'From the Murks of the Sultry Abyss' (2007), and 'So the Echo' (2013). Released on 5 September 2013 by Endophasia Publications, Boyd's third book 'So the Echo' visually weaves the past five years of his creative life when he honed and displayed his craft, and used art as a tool for activism. The book, which was composed of 156 pages, features Boyd's many sketches and works with watercolor and other experimental techniques, and also his personal photographs and journal entries which he wrote while traveling the world with his Incubus bandmates. After the publication of the book, Boyd also hosted book signings and artist talks in several cities across the world.
Boyd had participated in many national and international solo and group exhibitions and engaged in several book signings. He had also taken part in art fairs like Art Miami and Scope Art Fair during Miami Art Week. 
Boyd connoted his desire in eluding his thoughts or feelings through the means of art, "I usually, and this has been my experience for as long as I can remember, there's sort of an overwhelming desire. An overwhelming drive either to pick up a guitar or pick up a pen or stare into a black piece of paper or canvas until something emerges. It's once again kind of hard to describe and another reason why it's fascinating because there's like this overwhelming urge to make something out of nothing and it's actually a really beautiful feeling where you're in the midst of it. You're usually not paying attention to how you're feeling; you're sort of in it. It's kind of a mindless state, so what I've learned how to do over the years is to create environments and search for environments that are conducive to that feeling."
Boyd's recent exhibition was at The Other Art Fair, Sydney, in March 2021. He exhibited his original artwork and limited edition prints with some unseen ones like 'Eyes Without A Face' and 'Sarah With Red Spirals.' 
On 25 May 2021, Filipina actress and visual artist Heart Evangelista teased on her social media that she will be collaborating with Boyd for a "little art project," posting a screenshot of an online meeting with Boyd. One month later, Boyd unveiled the collective art project on his Instagram post, including his and Evangelista's artworks. In a 29 June Instagram post, Boyd posted photos from his latest project for Moonlight Arts Collective called "volume 1: coming soon," which included artworks of various visual artists who collaborated for the project. He posted the photos captioning, "See a new collective art project I've been concocting with some great co-conspirators!" Aside from the artworks of Boyd and Evangelista, the collective art project featured visual artworks of composer and singer-songwriter Mark Mothersbaugh, actress and stand-up comedian Melissa Villaseñor, actress Alia Shawkat, and commercial and fine-art photographer Brian Bowen Smith.
Moonlight Arts Collective, a community for art enthusiasts like himself who draw, paint, photograph, and moonlight as visual artists, was founded by Boyd. In an introductory video, Boyd shared the inspiration behind the establishment of Moonlight Arts Collective. He said, "My name is Brandon Boyd and I'm a songwriter, and a painter, and an art enthusiast. There are so many artists who are like me in that they are known for one thing but then when they get home into their quiet safe space, it actually branch off into another area of art that most of us don't really know about."
Recent and Future Projects
Boyd recently appeared on the 'American Idol' during the All-Star Duet Week in April 2021. He performed Incubus's hit song 'Wish You Were Here' with the 15-year-old contestant of the show Casey Bishop. He also performed 'Drive' with another contestant Chayce Beckham. They were honored with a standing ovation from the judges. 
Nearing the 20th Anniversary of Incubus in 2021, the band members announced that they are working on a couple of projects for their fans. Boyd also disclosed that he was recording new songs and covers during the pandemic lockdown of 2021, kindling the expectation of his fans on his upcoming solo releases. 
Personal Life
Boyd was in a 10-year-old relationship which he broke up while composing the tracks of their album '8'. In retrospect, he said, "I was exiting a 10-year relationship, and it was a beautiful process to unfold from that — it was slow, but it was also incredibly difficult, too."
After the Incubus popularity, the band established a charitable foundation, Make yourself Foundation, in 2003. The foundation has raised more than 1.6 million dollars for many non-profit organizations serving various causes. The members also directed the proceeds from the sales of their records, tickets, and merchandise sales to the foundation. 
Boyd also donated a portion of his 2021 Venice clothing exhibition to the charitable organization H.O.P.E. (Helping Other People Everywhere).