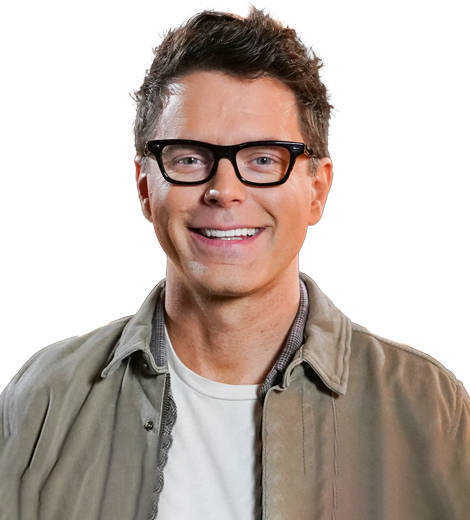 Quick Wiki
Full Name

Bobby Bones (a) Bobby Estell

Nickname

Bobby Bones

Occupation

Radio & Television Talk Show Host

Nationality

American

Birthplace

Arkansas, USA

Birth Date

April 2, 1980
Bobby Bones | Biography 2021
Bobby Bones is an American radio and television personality known for his country music radio show 'The Bobby Bones Show'.
---
Bobby Bones is an American radio and television personality known for his country music radio show 'The Bobby Bones Show'.
Who is Bobby Bones?
Bobby Bones got his start on the radio station at Henderson State University. Later, he worked as a studio hand for KLAZ (105.9) and got airtime after a few days. At the job, he was asked to choose between an on-air radio name, 'Bobby Z' or 'Bobby Bones'. He chose the latter, and ever since, 'Bobby Bones', became his stage name.
In 2002, Bones graduated from the university and relocated to Austin to work for a big banner Clear Channel, KHFI-FM (KISS 96.7 FM), before working for three more small radio stations. 
At Clear Channel, Bobby structured his popular show, 'The Bobby Bones Show', and it was aired in 2003. He started to broaden the 'Top 40' format gradually through selective syndication. It significantly increased his popularity.
In 2012, The Bobby Bones Show was launched nationally by Premiere Networks, one of the divisions of Clear Channel.
Bobby is also the author of two bestselling books, 'Bare Bones: I'm Not Lonely If You're Reading This Book' (2016), and 'Fail Until You Don't: Fight. Grind. Repeat' (2018). Besides, he is also a full-time mentor on an American singing competition series 'American Idol', on ABC. 
Early Life
Bobby Bones, alias Bobby Estell (his original birth name), was born in Hot Spring and grew up in Mountain Pine, Arkansas. After six years of his parent's marriage, his father abandoned the family, leaving Bones in the hands of his mother.
Pam Hurt, his mother, was an alcoholic and drug addict who spent much of her time away from the family. And so, his grandmother, Hazel Hurt, legally adopted him and raised him for a time.
Bones' grandmother played a prominent role in his decision to pursue a career in broadcasting. Hazel used to capture the audience in the church, with her songs and tales, and she became a great source of inspiration to Bones. He learned about classic country greats like Johnny Cash, Randy Travis, and Conway Twitty from his grandmother.
He had a tough time after his grandmother died in his teenage. Despite facing difficulties, Bones received a good education by a scholarship to Henderson State University. 
After studies, Bones was put to test again to take care of his addicted mother. "After college, I became a parent," Bones shares. He purchased her a small dwelling or a trailer and an acre and a half of land to support her. But it made her more addicted to drugs, and soon his mother died of an overdose at the age of 46.
Early career
After getting rejected at 32 radio stations, Bobby entered Henderson State University's radio station, KSWH-FM (102.5 FM) 'The Pulse'. He then moved to KLAZ (105.9) to work as a studio hand before given a chance for airtime. 
In 2002, he moved to Austin after working for WQON (Q100.3 FM), album-oriented rock, and KLAL (107.7 FM), Top 40 music format, in Little Rock. In Austin, he started working for Clear Channel's commercial radio station, KHFI-FM (KISS 96.7 FM)
Bobby Bones Show
At KHFI-FM, Bobby Bones was given an evening slot at first. He was soon moved to the morning slot, where he started to develop his signature show, 'The Bobby Bones Show' in February 2003. 
Later the Clear Channel moved 'The Bobby Bones Show', with its 'Top 40' format, to Nashville in 2012. Premiere Networks, a division of Clear Channel, broadcasted it nationally in the country music format to millions of listeners in the United States. 
'The Bobby Bones Show', does not follow a script, but Bones is clear of where the conversation heads. Since its inception, Bones had structured the show in this way. Eventually, he excelled in taking the show forward by being spontaneous and honest.
Bones wanted to be on the radio since he was five or six years old. Bones grew up listening to KLAZ (105.9) and KQUS-FM, shortly called US97 (97.5 FM) in Hot Springs, as well as KSSN (95.7 FM) in Little Rock. 
Expressing his passion for country music, Bones shares, "You like other music, too, but you don't escape country music." 
Other Activities 
In addition to his shows, Bones released an Extended Play called 'The Raging Kidiots', in November 2015. In March 2016, he released his only studio album, 'The Critics Award It 5 Stars'.
In May 2016, he released his first novel, 'Bare Bones: I'm Not Lonely If You're Reading This Book', a memoir. It was well-received by the public that in June 2018, he published 'Fail Until You Don't: Fight. Grind. Repeat'. 
Bobby established his podcast network, The Nashville Podcast Network, in 2017. With a series of seven famous podcasts, including BobbyCast, it was described as a "treasure trove of exceptionally candid anecdotes...", by the Washington Post.
In 2018, he joined American Idol as a guest mentor for season sixteen before becoming a full-time mentor in March 2019.
Personal Life
Bobby Bones got engaged to Catlin Parker in October 2020 and planned to get married by June of 2021. He lives with his fiance and two pet dogs in Nashville since the coronavirus pandemic.
Fact-checking and Ethical Concerns
We assure our audience that we will remove any contents that are not accurate or according to formal reports and queries if they are justified. We commit to cover sensible issues responsibly through the principles of neutrality.
To report about any issues in our articles, please feel free to Contact Us. Our dedicated Editorial team verifies each of the articles published on the Biographyhost.