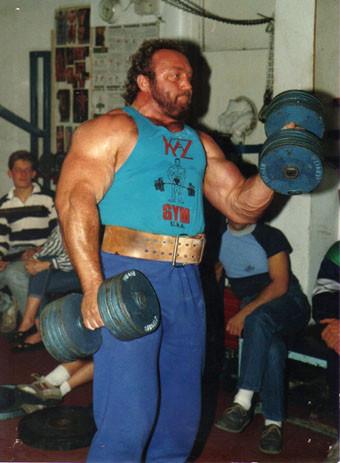 Bill Kazmaier | Biography 2021
Born in 1953, Bill Kazmaier is a former world champion powerlifter, strongman, and professional wrestler. Throughout his career, he earned three World's Strongest Man titles and two International Powerlifting Federation (IPF) World Championships under his belt. Bill Kazmaier, shortly known as Bill, became widely renowned at around the early 1980s, as he surmounted the titles and claimed that he was the strongest man who ever lived. 
---
 Bill Kazmaier is a former world champion powerlifter, motivation speaker, strongman, and professional wrestler. He became widely renowned around the early 1980s as "The Strongest Man Who Ever Lived."
He earned three World's Strongest Man titles and two International Powerlifting Federation (IPF) World Championships under his belt throughout his career.
In May 2008, Bill was voted as the Flex Magazine's "third strongest man to ever," right behind live after Mark Henry and Zydrunas Savickas. 
Where is Bill Kazmaier Now?
Having retired from powerlifting championships in 1990, Kazmaier hasn't withdrawn from it altogether. He appeared as a co-commentator for the American ESPN broadcast at the 2017 annual World's Strongest Man competition. He shared the commentary panel with Todd Harris. 
At the near of his retirement, Kazmair also started Kaz Fitness Center, which operated between 1980 through 2005. Later, Kazmaier founded the SWAT gym in Opelika, Alabama. To date, the gym provides services for many fitness enthusiasts. The gym also acts as the headquarter of his other companies called DynaKaz Inc. The company is a world-renowned fitness equipment importer and exporter. 
Early Biography: The Beginning of His Powerlifting Career
During Kazmaier's early career as a would-be professional powerlifter, Bill would struggle to earn a living. He would instead start to work as an oil rigger, a bouncer, and even a lumberjack.
In 1978, he made his first appearance at the Amateur Athletic Union (AAU). There, his impressive 782 lbs squat, 534 lbs bench press, and 804 lbs deadlift in the 275-pound weight class put him on the map. From there, he gave a winning performance as a powerlifter when he accomplished a bench press of 622 lbs at the IPF World Powerlifting Championship.
He achieved success subsequently; in 1983 in the 'United States Powerlifting Federation (USPF),' and later in November in the 'IPF World Championship' for a second time. By accomplishing this feat, he showed the world that he was not a one-hit-wonder but a player in for a long haul.
Strongman Career
Bill Kazmaier has been described as "a true legend in the sport of powerlifting and modern-day strongman." Much like his powerlifting career, Bill had tremendous success in his strongman career as well. 
At the beginning of his career, he took part in 1979 World's Strongest Man, where he became the second runner. In the next three World Strongest Man competitions of 1980, 1981, 1982, he won by a considerable margin in every contest — as he became the first person to win three consecutive WSM (World Strongest Man) titles. 
He also competed in 6 other WSM events, but he didn't receive the same success level because of his constant injuries. He appeared in his last WSM event in 1988.
Wrestling
The success at powerlifting and strongman championships made Kazmaier seek an alternative career — wrestling. As a growing industry, wrestling was one of the best options for powerlifters such as Bill.
After starting his wrestling career in 1986, he wrestled in various rings in Japan, including Fighting Network RINGS. 
Although his involvement ranged from Stampede Wrestling to WWF, his biggest push and exposure to the wrestling arena was at World Championship Wrestling. The brand pushed the storyline of a strong and powerful brute, a storyline that paid a huge dividend to him in wrestling for a long time. 
Trained by Verne Gagne and Brad Rheingans, Bill was introduced in the ring as "The World's Strongest Human Being". In 1991, Kazmaier was in the ring for the 'World Heavyweight Championship but lost that title to Lex Luger.
Bill Kazmaier's Measurements
Though his body measurements have changed over the years, his weight at the peak of his career ranged from 321lbs to 350lbs. His other body measurements at the peak of his career are as follows: 
Height: 6 foot 3 inches
Chest: 60 inches
Biceps: 23 inches
Forearms: 17 inches
Neck: 22 inches
Waist: 40 inches
Thigh: 32 inches
Calves: 20.5 inches
Personal life
Born in 1953 as the youngest child to William Bartholomew and Florence Louise Steinhoff Kazmaier, Kazmaier was raised in a family of seven as a devout Christian. 
Currently, he lives in Auburn, Alabama, with his wife and son.
Injuries
Kazmaier had multiple injuries between championships, but that couldn't stop him from achieving success. His most remembered triumph was when he beat his own world record of 622 lbs to lift a record of 661.4 lbs at the 1981 IPF-sanctioned meet. 
Interesting facts
1. He is shortly known as Kaz. 
Fact-checking and Ethical Concerns
We assure you that we will remove any contents that are not accurate or according to your reports and queries if they are justified.
We commit to cover sensible issues responsibly through the principles of neutrality. If you find any issues in our articles, please feel free to Contact Us. Our dedicated Editorial team verifies each of the articles published on the Biographyhost.