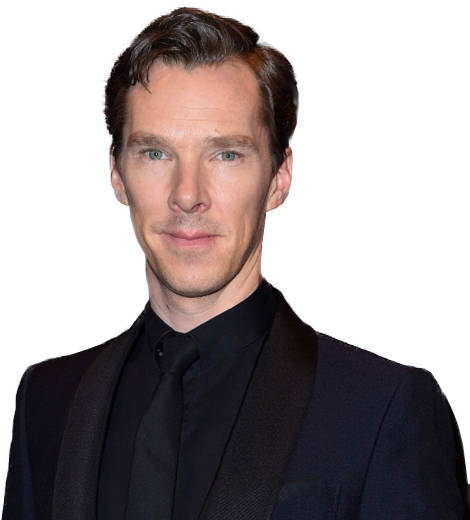 Quick Wiki
Full Name

Benedict Cumberbatch

Nationality

English

Birthplace

London, England

Birth Date

Jul 19, 1976

Age

47 Years, 2 Months

Nickname

Actor
Known For Playing Sherlock Holmes & Dr. Strange
Benedict Cumberbatch | Biography 2021
Famous For His Role as Sherlock Holmes In The Popular British TV Series 'Sherlock', Benedict Cumberbatch Is An Oscar-nominated British Actor And Producer.
---
Famous for his role as Sherlock Holmes in the popular British TV Series Sherlock (2010-2017), Benedict Cumberbatch is an Oscar-nominated British actor and producer.  
Who is Benedict Cumberbatch?
Cumberbatch is a prominent actor who started his career through theatre and eventually established himself in the TV and movie industry. His charismatic portrayals in movies such as Hawking (2004), Atonement (2007), The Other Boleyn Girl (2008), 12 Years a Slave (2013), Imitation Game (2014), Dr. Strange (2016), and the series Sherlock (2010-2017), The Simpsons (2013-2021) and Patrick Melrose (2018) have garnered him widespread popularity.
He has received prestigious accolades for his acting in the theatre. He received a 'Laurence Olivier Award' nomination for the category of 'Best Supporting Actor' for Hedda Gabler and won the 'Laurence Olivier Award Best Actor' for Frankenstein.
Cumberbatch has got the 'Oscars' nomination under the 'Best Actor' category and 'BAFTA' for his role in The Imitation Game for his performance in the movies. He has also received one 'Emmy Awards' for his role on Sherlock Holmes.
Early Life
Benedict Timothy Carlton Cumberbatch was born on 19 July 1976. Both his parents—Wanda Ventham and Timothy Carlton Cumberbatch—were television actors in London, England. His parents did not want him to follow in their footsteps in the acting industry. They wanted him to become a doctor or a lawyer. Hence they saved up and sent him to expensive private schools.
Benedict studied at Brambletye School located in West Sussex and studied arts at Harrow School. When he joined Harrow, he was interested in Rugby and painting but eventually found acting and theatre more compelling. He participated in several school plays, including the role of Titania, the queen of fairies, in William Shakespeare's A Midsummer Night's Dream.
After school, he took a year off and went to Darjeeling, India, to teach English to Tibetan Buddhist monks. On his return, he joined and graduated from the University of Manchester with drama as his major. After graduation, he completed a one-year diploma course in classical acting from the London Academy of Music and Dramatic Art.  
The actor accredited his parents for his education and his niche for hard work. He said, "I can only hope to be half as good a parent, as they were to me, to my children. I have their example to follow, so I'll be doing something right if I am."
Early Career
Cumberbatch's career started from classical theatre plays. He started acting at the Regent Park, Royal National Theatre, and his major theatrical roles were in plays such as Hedda Gabler (2005), Rhinoceros (2007), After the Dance (2010), The Children's Monologues (2010), and Frankenstein (2011).
Cumberbatch also acted in televisions in minor roles, including those in Tipping the Velvet (2002), Silent Witness (2002), Fortysomething (2003), and To the Ends of the Earth (2005).
Later, he had his movie breakthrough from Hawking (2004), where he portrayed the great scientist Stephen Hawking, which even garnered him a BAFTA TV nomination. After that, he had minor roles in Amazing Grace (2006), Atonement (2007), The Other Boleyn Girl (2008), Creation (2010), and Star Trek Into the Darkness (2013).
Abduction in Africa
After the release of To the Ends of the Earth, Cumberbatch went through an unfortunate abduction experience while filming in KwaZulu-Natal, South Africa.  
The incident occurred after he was returning from a scuba-diving course with his co-stars, Theo Landey and Denis Black, and they had to stop in the middle of the road after having a flat tire. While they were changing the tire, a group of three men appeared out of the eucalyptus plantation. The men then held them at gunpoint, shoved them in a car, and drove away. They were robbers who tied the actors with shoelaces and wires before pulling them into the car. Cumberbatch scraped their way out by telling the robbers that he had brain and heart problems, and if something happened to him, they would have a dead Englishman in their car, which was probably not good for them.
Later, the actors were left psychologically tortured but physically unharmed in an open field, after which a lady offered them her phone for them to reach out. He connoted, "So I kind of thank God I had the presence of mind to give them the idea that it would be better to keep me alive. And the other two hadn't been harmed…It enriches your values in life. It's incredibly important…think it just made me run at life a bit more recklessly."
'Sherlock Holmes'
Cumberbatch's international breakthrough was from Sherlock Holmes (2010-2017, four seasons), where he played the lead role of Sherlock Holmes with Martin Freeman as Dr. Watson. The BBC series won him his first 'Emmy Award' under the 'Outstanding Actor' category in a Miniseries or a Movie.
According to showrunner Steven Moffat's interview with Independent in 2014, Cumberbatch was initially thought "not sexy enough" for Sherlock. According to Moffat, the BBC said regarding the casting, "You promised us a sexy Sherlock, not him."
Despite this, his performance garnered enormous public attention and success as well. While promoting Sherlock Holmes, he said, "I think it is crucial to normalize your like, because of the very quick transition from being observant to being observed, due to that kind of life you have because of your work…to being a person as the main focus of attention. It's tough for me to sit in a room without people managing to look at me, I mean, I still manage to do it…but as Sherlock says as being disguised in full sides is the best way in some ways."
'Doctor Strange'
In 2016 Cumberbatch joined the prestigious Marvel cast when he portrayed the role of Dr. Stephen Strange in the movie Doctor Strange (2016). He later reprised the character in Thor: Ragnarok (2017), Avengers: Infinity War (2018), and Avengers: Endgame (2019).
He recalled the experience in the sets as a space for camaraderie and companionship, "It's just a fun place to be. It's hard work, the long hours, but you spend a lot of time in isolation getting ready and prepping, putting the costume on, and the makeup can take a long time. And then you're there, and you're on the field, and you're doing what you're doing with an amazing bunch of actors, frankly. So, it's kind of inspiring to look around. And then, once you've got over being star-struck, it's just a really fun day at the office, as you can imagine. Long, but fun."
'The Imitation Game'
In 2014, Cumberbatch played the lead role in the movie The Imitation Game (2014), which got him his first Oscar nomination under the 'Best Actor category. 
Based on the biography 'Alan Turing: The Enigma' (1983), the character Turing portrayed by Cumberbatch in The Imitation Game (2014) was considered the father of computer science. Using arithmetic, engineering, and not yet invented computer technology, Turing decrypted codes generated by the German military's allegedly indestructible Enigma system during World War II. However, most of the documents detailing Turing's work for the British government were lost alongside the information about his personal life.
Subsequently, Cumberbatch then played significant roles in the movie A Child in Time (2017), in the miniseries Patrick Melrose (2018), and then in films Brexit: An uncivil war (2019, tv movie) and 1917 (2019). Cumberbatch played Prime Minister Boris Johnson's senior political strategist, Dominic Cummings, in Brexit: An uncivil war.
'The Courier'
In the 2020 thriller Film, Cumberbatch portrays a businessman, Greville Wynne, who ferried secrets between the United Kingdom and the Soviet Union during the Cold War in the thriller film The Courier, which is based on a true story.
Deciding to depict the historical figure's declining health when he had 18-month prison, Cumberbatch had to look emaciated. As a result, the already lean actor committed to losing weight over the course of three months.
He slimmed down by about 21 lbs. It was achieved by traditional dieting techniques as well as some strenuous exercise. In an interview with CinemaBlend, he said. "I was very fit and it was all done in a healthy way. It wasn't about atrophy or lethargy. [Rather] it was very much about trying to shed everything to shrink and wrap my body mass around the muscle." His routine included "lots of cold water, swimming and exercise, and healthy foods."
Although his dramatic weight loss made him feel "vulnerable," it also helped him emotionally prepare for the demanding role. "You get very disoriented, you feel dehydrated, you feel hungry all the time. You feel emotionally and physically very vulnerable. All of which plays very helpful into a character that must have endured this for months, if not years," he expressed in one of his interviews and as well revealed that he got mentally disturbed in the process of losing weight.
However, persevered and driven by a sense of purpose and a sense of duty to his character, Cumberbatch further stated, "You do feel a responsibility to bring to light a story that a lot of people have either forgotten or never heard of."
"This is an extraordinary character, a humble man from a very humble beginning. [He is] an ordinary man, an everyman hero who has to do something quite extraordinary and not only for his country and his family", he added.
'Dungeons and Dragons'
In 2021, game publisher Wizards of the Coast kicked off a summer of celebrations with an animated Dungeons & Dragons short about the life of fan-favorite character Drizzt Do'Urden, voiced by Doctor Strange star Benedict Cumberbatch. 
The character has appeared in over thirty D&D books and video games, including Dungeons & Dragons Dark Alliance. 
Dungeons & Dragons is a role-playing game in which players build their own heroes and stories.
'The Electrical Life of Louis Wain'
In 2019, the biographical movie about the life of artist Louis Wain was announced with actors such as Benedict Cumberbatch (portrays Wain), Toby Jones, Claire Foy, and Claire Foy added to the cast. 
'Spider-Man: No Way Home'
In October 2020, sources told Deadline that Cumberbatch was in talks to appear as Dr. Strange in Spiderman: No Way Home, which is set to be released in November 2021. However, because narrative specifics are shrouded in secrecy, it's uncertain how big of a role Cumberbatch will play - whether it'll be major or just a guest appearance.
Upcoming 'Dr. Strange' Projects
In 2022, Wanda Maximoff, a.k.a. the Scarlet Witch is scheduled to return in Benedict Cumberbatch starred Dr. Strange Season 2 (25 March 2022.) and also in Dr. Strange in the Multiverse of Madness. Cumberbatch was also signed to appear on the final episode of WandaVision, but he was later dropped to protect Wanda's limelight in the story.
'WandaVision'
Featuring the story of Wanda Maximoff aka Scarlet Witch (portrayed by Elizabeth Olsen), WandaVison (2021), is due to return in Doctor Strange and The Multiverse of Madness in 2022, although the two projects were virtually inextricably intertwined. Marvel Studios president Kevin Feige noted in Rolling Stone's extensive oral history of WandaVision that the show's final episode will feature Benedict Cumberbatch as Dr. Strange. They did, however, phased him out later in the process.
"Some people might say, 'Oh, it would've been so cool to see Dr. Strange,'" Feige shared with Rolling Stone in May 2021. "But it would have taken away from Wanda, which is what we didn't want to do. We didn't want the end of the show to be commoditized to go to the next movie — here's the white guy, 'Let me show you how power works'", the president added.
'The Mauritanian'
In 2021, he appeared in The Mauritanian (2021), which was based on the memoir Guantanamo Diary by Mohamedou Ould Slahi. He played the role of a lawyer alongside actress Jodie Foster.
Foster's first scene and day on set were in Cape Town, South Africa, which essentially served as a stand-in for the bizarre Caribbean paradise surrounding Gitmo. But it was Cumberbatch who failed in front of the camera. In between takes, he became ill. He later said, "I was really ill, I think it was just a really severe flu. But it was really nasty. I hadn't been that ill for quite a long time. Like maybe once in my life. Horrible," he says.
Net Worth
According to Celebrity Net Worth, Benedict Cumberbatch has a net worth of 40 million dollars. His $40 million net worth is mostly due to his roles as Sherlock Holmes on Sherlock and Dr. Stephen Strange in Doctor Strange. For Sherlock Holmes, he apparently made around $559,000 every season. Additionally, In 2013, he got $230,000 for his role in 12 Years a Slave, and in 2014, he earned an estimated $1.2 million for his role in The Imitation Game. In the same year, he made $946, 000 for his other work, Black Mass (2015). Similarly, according to Screen Rant, he was paid $4.7 million for Doctor Strange and is expected to be paid $9.6 million for Doctor Strange 2 (2022).
He also had a brief appearance in 1917 in 2019. On 19 January 2019, filmmaker Rian Johnson joked on Twitter that the film's director, Sam Mendes, had to pay Cumberbatch $23 million for postponing his sequence.
"Last night at the PGA awards Mendes told me 1917 was ACTUALLY shot in one continuous take, if an actor flubbed a line they'd go all the way back and start again from the beginning. They paid Cumberbatch to show up every day and wait in that room at the end. He was there 6 months"
"They paid him 23 million dollars", Johnson added.
COVID-19
Cumberbatch says that he was "blessed" to be able to spend lockdown in New Zealand with his family, which included his elderly parents. In the year 2020, the actor was put on warning level 4 lockdown in New Zealand after being trapped in border closures while filming a film there. When New Zealand went into lockdown in March 2020, Cumberbatch was in the country filming The Power of the Dog (release date in 2021) with Kiwi filmmaker Jane Campion.
The actor later revealed that he was in the country on lockdown with his wife, three sons, and his parents, who were in their eighties." It was too late by then to risk going back home. I had both my parents with me who are in their 80s, and my dad is severely asthmatic ... and my three boys and my wife, a very merry band of us. We couldn't have landed in a more fortunate situation, we were so lucky and I just held them close to me," the Doctor Strange actor added.
Charity
In 2015, Benedict became a 'Patron' of the Motor Neuron Disease (MND) Association. The title is a three-year senior honorary role given to largely recognized artists as volunteers. He received the title of 'Patron' as an honor for his conjoined work with Eddie Redmayne, an actor who received an 'Academy Award' for 'Best Actor' in The Theory of Everything (2014), in raising global awareness of MND and the Association. Given his intensive research into MND for his role as Professor Stephen Hawking in the BAFTA-nominated BBC drama Hawking (2004), Cumberbatch has been an Ambassador for the Association since 2008.
Likewise, in 2015, Benedict Cumberbatch, Cate Blanchett, and Emma Watson were among the celebrities who attended the Duke of Cambridge at Windsor Castle for a charity event. The occasion was hosted to honor the Royal Marsden Cancer Centre's work as well as to honor the donation from fashion designer Ralph Lauren for the center.
Before this, Cumberbatch was a part of another cancer-related project where he along with Anna Friel, Idris Elba, and Tom Hardy starred in a short Stand Up to Cancer campaign video in 2014. This was more of a public awareness piece for the Stand Up To Cancer campaign, a collaboration between Cancer Research UK and Channel 4. The performers were seen hurriedly sprinting towards the camera, interlaced with footage of cancer sufferers, to emphasize that greater action is needed, and it is needed now.
"I'm standing up to cancer because some of the real-life heroes amongst us, scientists and researchers, need funding so they can continue their life-saving work", Cumberbatch had shared with Mail.
"Cures are within our grasp and we can't slow down in our fight against this terrible disease. We can be the generation that really makes a difference, who wouldn't want to be part of that?", he further added.
Cumberbatch was one of 3,000 bikers that signed up for The Prince's Trust Palace to Palace bike race, which was sponsored by Saudi Aramco, on 14 October 2012. This 45-mile cycle from Buckingham Palace to Windsor Castle raised critical funding for The Prince's Trust's operations. As an Ambassador of the Prince's Trust, Benedict had raised more than £20,000 for The Trust in that year's event.
He stated:
"I don't get the opportunity to cycle much so it was fantastic to take part on such a beautiful route through London. It wasn't easy cycling 45 miles but it's worth it for such an important cause and everyone has had a great time."
Personal Life
On Valentine's Day 2005, Cumberbatch married Sophie Hunter, a playwright and opera director, Hunter at the Church of St. Peter and St. Paul on the Isle of Wight in England. She is descended from a prestigious family. General Sir James Michael Gow, a royal equerry, was her maternal grandfather. 
Benedict and Hunter met in 2009 when they both starred in the fairytale suspense Burlesque Fairytales.
Their Marriage
Sophie was already expecting their first child at the time of their marriage. Christopher Carlton. They have three sons: Hal, Auden, and Finn.
Parents
Wanda Ventham, Cumberbatch's mother, is fondly remembered for her role as Colonel Virginia Lake in the 1970s science fiction television series UFO, as well as Pamela Parry in Only Fools and Horses (1981–2003). In a similar vein, his father, actor Timothy Carlton, played the role of the judge in Downton Abbey (2010-2015) and has appeared in several TV dramas, including The Scarlet Pimpernel in 1982. Both of Benedict's parents had made a brief appearance in Sherlock Holmes as well.
Benedict discussed his parents and their influence on his career choices in a 2010 interview with the Sunday Times. Not to mention their efforts to demonstrate to him how volatile an actor's income may be.
"At 15, they kept saying, 'Look at us, how out of control our lifestyle is, how money's a huge ebb and flow.'"
Social media
Cumberbatch isn't that active on Facebook or Twitter.
"I can't get involved in social media because as they know, it'd be a disaster. I can't tweet to save my life," he told People in 2016.
He further added, "I'd go over my character limits and never make any sense. It would just consume me and I find that whole thing ultimately very toxic. I'd much rather spend my energy doing what brought me to their attention in the first place, which is my work."
Did You Know?
Benedict Cumberbatch's real-life parents played Sherlock's mother and father. In a scene in Baker Street, the two actors, who are both experienced actors, played Holmes' mother and father. The actor acknowledged that acting alongside his parents in the new series was "nerve-wracking" but that he was "so proud of them."
He further explained, "They're Equity card carrying members but you know it was nerve-wracking because they are actors as well and yet they were brilliant and they were fantastic."