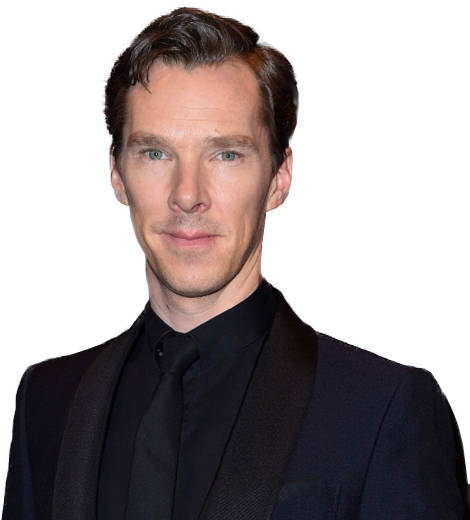 Quick Information
Full Name

Benedict Cumberbatch

Nickname

Actor

Nationality

English

Birthplace

London, England

Born Year And Birthday

Jul 19, 1976

Age

44 Years, 10 Months
Known For Playing Sherlock Holmes & Dr. Strange
Benedict Cumberbatch | Biography 2021
Famous For His Role as Sherlock Holmes In The Popular British TV Series 'Sherlock', Benedict Cumberbatch Is An Oscar-nominated British Actor And Producer.
---
Quick Information
Full Name

Benedict Cumberbatch

Nationality

English

Birthplace

London, England

Birth Date

Jul 19, 1976

Age

44 Years, 10 Months

Nickname

Actor
Famous for his role as Sherlock Holmes in the popular British TV Series Sherlock (2010-2017), Benedict Cumberbatch is an Oscar-nominated British actor and producer.
Who is Benedict Cumberbatch?
Cumberbatch is a prominent actor who started his career through theatre and eventually established himself in the TV and movie industry. His charismatic portrayals in movies such as Hawking (2004), Atonement (2007), The Other Boleyn Girl (2008), 12 Years a Slave (2013), Imitation Game (2014), Dr. Strange (2016), and the series Sherlock (2010-2017), The Simpsons (2013-2021) and Patrick Melrose (2018) have garnered him widespread popularity.
He has received prestigious accolades for his acting in the theatre. He received a 'Laurence Olivier Award' nomination for the category of 'Best Supporting Actor' for Hedda Gabler and won the 'Laurence Olivier Award Best Actor' for Frankenstein.
Cumberbatch has got the 'Oscars' nomination under the 'Best Actor' category and 'BAFTA' for his role in The Imitation Game for his performance in the movies. He has also received one 'Emmy Awards' for his role on Sherlock Holmes.
Early Life
Benedict Timothy Carlton Cumberbatch was born on 19 July 1976. Both his parents—Wanda Ventham and Timothy Carlton Cumberbatch—were television actors in London, England. His parents did not want him to follow in their footsteps in the acting industry. They wanted him to become a doctor or a lawyer. Hence they saved up and sent him to expensive private schools.
Benedict studied at Brambletye School located in West Sussex and studied arts at Harrow School. When he joined Harrow, he was interested in Rugby and painting but eventually found acting and theatre more compelling. He participated in several school plays, including the role of Titania, the queen of fairies, in William Shakespeare's A Midsummer Night's Dream.
After school, he took a year off and went to Darjeeling, India, to teach English to Tibetan Buddhist monks. On his return, he joined and graduated from the University of Manchester with drama as his major. After graduation, he completed a one-year diploma course in classical acting from the London Academy of Music and Dramatic Art.
The actor accredited his parents for his education and his niche for hard work. He said, "I can only hope to be half as good parent, as they were to me, to my children. I have their example to follow, so I'll be doing something right if I am."
Early Career
Cumberbatch's career started from classical theatre plays. He started acting at the Regent Park, Royal National Theatre, and his major theatrical roles were in plays such as Hedda Gabler (2005), Rhinoceros (2007), After the Dance (2010), The Children's Monologues (2010), and Frankenstein (2011).
Cumberbatch also acted in televisions in minor roles, including those in Tipping the Velvet (2002), Silent Witness (2002), Fortysomething (2003), and To the Ends of the Earth (2005).
Later, he had his movie breakthrough from Hawking (2004), where he portrayed the great scientist Stephen Hawking, which even garnered him a BAFTA TV nomination. After that, he had minor roles in Amazing Grace (2006), Atonement (2007), The Other Boleyn Girl (2008), Creation (2010), and Star Trek Into the Darkness (2013).
Abduction in Africa
After the release of To the Ends of the Earth, Cumberbatch went through an unfortunate abduction experience while filming in KwaZulu-Natal, South Africa.
The incident occured after he was returning from a scuba-diving course with his co-stars, Theo Landey and Denis Black, and they had to stop in the middle of the road after having a flat tire. While they were changing the tire, a group of three men appeared out of the eucalyptus plantation. The men then held them at gunpoint, shoved them in a car, and drove away. They were robbers who tied the actors with shoelaces and wires before pulling them into the car. Cumberbatch scraped their way out by telling the robbers that he had brain and heart problems, and if something happened to him, they would have a dead Englishman in their car, which was probably not good for them.
Later, the actors were left psychologically tortured but physically unharmed in an open field, after which a lady offered them her phone for them to reach out. He connoted, "So I kind of thank God I had the presence of mind to give them the idea that it would be better to keep me alive. And the other two hadn't been harmed…It enriches your values in life. It's incredibly important…think it just made me run at life a bit more recklessly."
'Sherlock Holmes'
Cumberbatch's international breakthrough was from 'Sherlock Holmes' (2010-2017, four seasons), where he played the lead role of Sherlock Holmes with Martin Freeman as Dr. Watson. The BBC series won him his first Emmy Award under the Outstanding Actor category in a Miniseries or a Movie.
His performance garnered him enormous public attention and success as well. While promoting Sherlock Holmes, he said, "I think it is crucial to normalize your like, because of the very quick transition from being observant to being observed, due to that kind of life you have because of your work…to being a person as the main focus of attention. It's tough for me to sit in a room without people managing to look at me, I mean, I still manage to do it…but as Sherlock says as being disguised in full sides is the best way in some ways."
'Doctor Strange'
In 2016 Cumberbatch joined the prestigious Marvel cast when he portrayed the role of Dr. Stephen Strange in the movie Doctor Strange (2016). He later reprised the character in Thor: Ragnarok (2017), Avengers: Infinity War (2018), and Avengers: Endgame (2019).
He recalled the experience in the sets as a space for comraderies and companionship, "It's just a fun place to be. It's hard work, the long hours, but you spend a lot of time in isolation getting ready and prepping, putting the costume on, and the makeup can take a long time. And then you're there, and you're on the field, and you're doing what you're doing with an amazing bunch of actors, frankly. So, it's kind of inspiring to look around. And then, once you've got over being star-struck, it's just a really fun day at the office, as you can imagine. Long, but fun."
'The Imitation Game'
In 2014, Cumberbatch played the lead role in the movie The Imitation Game (2014), which got him his first Oscar nomination under the 'Best Actor category. He portrayed Alan Turing, a British cryptographer who decrypted German intelligence messages for the British government during the Second World War.
He then played significant roles in the movie A Child in Time (2017), in the miniseries Patrick Melrose (2018), and then in films Brexit: An uncivil war (2019, tv movie) and 1917 (2019). Cumberbatch played Prime Minister Boris Johnson's senior political strategist, Dominic Cummings, in Brexit: An uncivil war.
'The Courier'
In the 2020 thriller Film, Cumberbatch portrays a businessman who ferried secrets between the United Kingdom and the Soviet Union during the Cold War in the thriller film The Courier, which is based on a true story.
Deciding to depict the historical figure's declining health when he had 18-month prison, Cumberbatch had to look emaciated. As a result, the already lean actor committed to losing weight over the course of three months.
He slimmed down by about 21 lbs. It was achieved by traditional dieting techniques as well as some strenuous exercise. In an interview with CinemaBlend, he said. "I was very fit and it was all done in a healthy way. It wasn't about atrophy or lethargy. [Rather] it was very much about trying to shed everything to shrink wrap my body mass around the muscle." His routine included "lots of cold water, swimming and exercise, and healthy foods."
Although his dramatic weight loss made him feel "vulnerable," it also helped him emotionally prepare for the demanding role.
'Dungeons and Dragons'
In 2021, game publisher Wizards of the Coast kicked off a summer of celebrations with an animated Dungeons & Dragons short about the life of fan-favorite character Drizzt Do'Urden, voiced by Doctor Strange star Benedict Cumberbatch.
The character has appeared in over thirty D&D books and video games, including Dungeons & Dragons Dark Alliance.
Dungeons & Dragons is a role-playing game in which players build their own heroes and stories.
Upcoming 'Dr Strange' Projects
In 2022, Wanda Maximoff, a.k.a. the Scarlet Witch, is scheduled to return in Benedict Cumberbatch starred Dr. Strange Season 2 (25 March 2022.) and also in Dr. Strange in the Multiverse of Madness. Cumberbatch was also signed to appear on the final episode of WandaVision, but he was later dropped to protect Wanda's limelight in the story.
'The Mauritanian'
In 2021, he appeared in The Mauritanian (2021), which was based on the memoir Guantanamo Diary by Mohamedou Ould Slahi. He played the role of a lawyer alongside actress Jodie Foster.
Foster's first scene and day on set were in Cape Town, South Africa, which essentially served as a stand-in for the bizarre Caribbean paradise surrounding Gitmo. But it was Cumberbatch who failed in front of the camera. In between takes, he became ill. He later said, "I was really ill, I think it was just a really severe flu. But it was really nasty. I hadn't been that ill for quite a long time. Like maybe once in my life. Horrible," he says.
Spider-Man: No Way Home
In October 2020, sources told Deadline that Cumberbatch was in talks to appear as Dr. Strange in Spiderman: No Way Home, which is set to be released in December 2021.
'The Electrical Life of Louis Wain'
In 2019, the biographical movie about the life of artist Louis Wain was announced with actors such as Benedict Cumberbatch (portrays Wain), Toby Jones, Claire Foy, and Claire Foy added to the cast.
COVID-19
Cumberbatch says that he was "blessed" to be able to spend lockdown in New Zealand with his family, which included his elderly parents. In the year 2020, the actor was put on warning level 4 lockdown in New Zealand after being trapped in border closures while filming a film there. When New Zealand went into lockdown in March 2020, Cumberbatch was in the country filming The Power of the Dog (release date in 2021) with Kiwi filmmaker Jane Campion.
The actor later revealed that he was in the country on lockdown with his wife, three sons, and his parents, who were in their eighties." It was too late by then to risk going back home. I had both my parents with me who are in their 80s, and my dad is severely asthmatic ... and my three boys and my wife, a very merry band of us. We couldn't have landed in a more fortunate situation, we were so lucky and I just held them close to me," the Doctor Strange actor added.
Personal Life
On Valentine's Day 2005, Cumberbatch married Sophie Hunter, a playwright and opera director, Hunter at the Church of St. Peter and St. Paul on the Isle of Wight in England. She is descended from a prestigious family. General Sir James Michael Gow, a royal equerry, was her maternal grandfather.
Benedict and Hunter met in 2009 when they both starred in the fairytale suspense Burlesque Fairytales.
Their Marriage
Sophie was already expecting their first child at the time of their marriage. Christopher Carlton. They have three sons: Hal, Auden, and Finn.
Did You Know?
Benedict Cumberbatch's real-life parents played Sherlock's mother and father. In a scene in Baker Street, the two actors, who are both experienced actors, played Holmes' mother and father. The actor acknowledged that acting alongside his parents in the new series was "nerve-wracking" but that he was "so proud of them."
He further explained, "They're Equity card carrying members but you know it was nerve-wracking because they are actors as well and yet they were brilliant and they were fantastic."
Fact-checking and Ethical Concerns
We assure our audience that we will remove any contents that are not accurate or according to formal reports and queries if they are justified. We commit to cover sensible issues responsibly through the principles of neutrality.
To report about any issues in our articles, please feel free to Contact Us. Our dedicated Editorial team verifies each of the articles published on the Biographyhost.