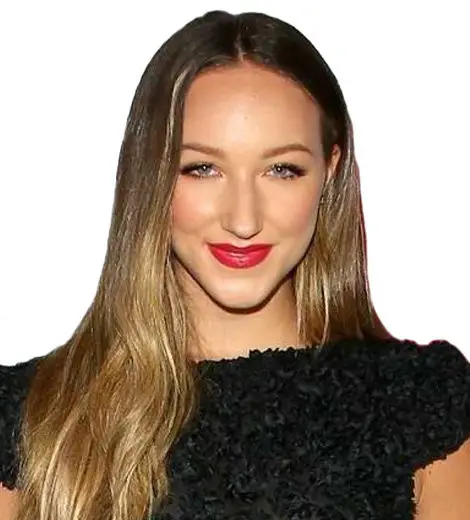 Quick Wiki
Full Name

Ava Michelle

Occupation

Dancer, Actor, Model

Nationality

American

Birthplace

Michigan, USA

Birth Date

Apr 10, 2002

Age

21 Years, 5 Months

Ethnicity

Caucasian

Zodiac Sign

Aries

First Titular Role

'Tall Girl'

Brother

Devan Michelle

Relationship Status

In a Relationship

Boyfriend

Bryan Pearn

Height

6 feet 1 inch
Jodi Kreyman in the Netflix Movie 'Tall Girl'
Ava Michelle | Biography
Appeared in 'So You Think You Can Dance: The Next Generation' in 2016
Ava Michelle's first breakthrough role came in 2019, playing the lead character Jodi Kreyman in the Netflix film 'Tall Girl.' The story follows a high school student who is taller than her peers and is often mocked because of her height. When the tallest girl in high school falls in love with a handsome foreign exchange student, she finds herself in a surprising love triangle. She started filming the sequel to the Netflix comedy film 'Tall Girl' in 2021.
---
Ava Michelle Cota is an American actress, model, and dancer best known for her portrayal of Jodi Kreyman in the Netflix comedy movie Tall Girl.
Who is Ava Michelle?
Ava Michelle Cota is an actress, dancer, singer, and model who has had extensive training in contemporary dance, ballet, jazz, and tap. 
Michelle started her acting career with the 2018-movie This is Me. The same year, she also appeared on two episodes of the hit soap opera The Bold and The Beautiful as a Forrester model. 
She featured in a few more movies in 2018, including Mamma Mia!, and A Christmas Dinner. Michelle was a regular on Dance Moms from seasons three to seven from 2014 to 2018 and a member of the Select Ensemble team for a brief period in season four.
In 2016, Michelle also appeared on So You Think You Can Dance: The Next Generation, where she discussed the impact of social media, bullying, and her struggles. 
Standing at 6 foot 1 and a half inches tall, Michelle is well known for her height. She made her runway debut for New York Fashion Week in 2017, and since then, she has participated in many runways for some of the country's most prestigious designers. 
The Netflix star encourages people to embrace their differences and is dedicated to using her stardom to raise consciousness about self-love and reduce the focus on bullies. She also started a social media campaign labeled #13Reasons4Me in 2018 to inspire people to write 13 things they like about themselves or their lives.
Early Bio & Family
Ava Michelle Cota, also known as Michelle, was born on April 10, 2002, in Fenton, Michigan, USA, to Rick and Jeanette Cota. She was raised in Linden, Michigan, with her older brother Devan Cota. 
Michelle started dancing when she was two years old and soon transferred to JC's Broadway Dance Academy at 3, owned and managed by her mother, Jeanette. The Academy was permanently closed down in 2017.
Michelle was homeschooled after the age of eight. She graduated from high school two years early, making her a member of the 2018 class.
Her Brother Died of Fentanyl Poisoning 
In February 2021, Michelle lost her brother Devan in an unfortunate incident after her 23-year-old brother died of fentanyl poisoning. 
In a February 2022 interview with People, she opened up about the tragic loss her family faced. "It was very unexpected and obviously an accident," Michelle said. "It's still hard to share, but I think it's important."
The family did not detail Devan's death, but Michelle wants to raise awareness about the dangers of overdosing on the potent opiate, which is frequently mixed into other narcotics.
"More young people have died from fentanyl poisoning in the past couple years than COVID," Michelle noted. "We really need to be talking about this so much more than we are. This is something I'm super passionate about and I'm actually going to be starting my own foundation [for awareness] on it."
Michelle and her mother, Jeanette Cota, also debuted their Identified apparel collection in December 2021, which was inspired by Devan. The actress also mentioned that the night before Devan passed away, he talked about the clothing line that the family intended to do together. In addition, he also named the brand just the night before he died.
"He was sitting there talking about how much we struggle to find our identity in this world, because society really just makes it difficult for us. They think we can be put in boxes, but we're all different, and we're all human, and so we all should just be identified as human," Michelle said.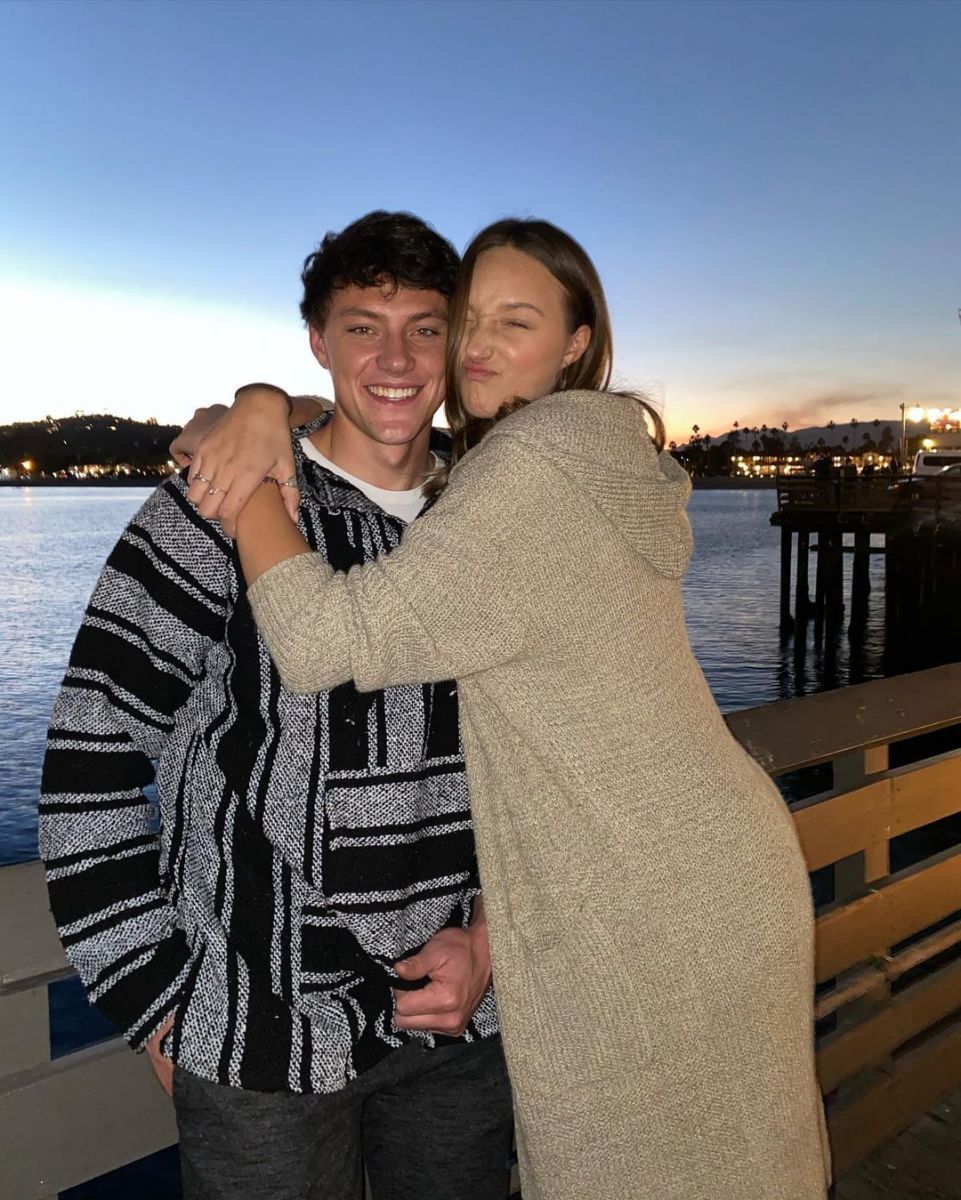 "This was something that really meant a lot to him. So my mom and I made it happen, and it launched Christmas Day, and we're just really excited about it. It has a great meaning, and a lot of him in it as well, which I think is really special, and something that he definitely would want us to continue. So hopefully something beautiful can come out of something not so beautiful," she added.
The actress also said that she had a great relationship with Devan and looked up to him in the interview. 
Michelle revealed that one of the most amazing things about her brother was that he always sought to do the right thing and never passed judgment. 
"I feel like he was the most least judgmental person I ever met. I think there's a lot that I had to learn from him," she continued.
In honor of his birthday, the 4th of July, the family continues to celebrate his legacy and life. "The 4th of July was his birthday, and the fireworks are all for him," she jokingly said. "He always thought they were."
Started Her The Professional Career as a Dancer
Michelle began her career in the entertainment industry as a dancer and model. After attending JC's Broadway Dance Academy, Michelle became a guest dancer with the Abby Lee Dance Company (ALDC). She later auditioned with ALDC for season 3 of the popular dance reality show Dance Moms in 2011 and was regularly featured on the show for another four years.
In Season 4, she was welcomed back to the ALDC as a part of the Junior Select Ensemble, intending to challenge her competitor Kendall K Vertes. Between the fifth and seventh seasons, she also competed as a Candy Apple's Dance Center member. 
Unfortunately, ALDC's founder Miller cut her from the team because of her height. However, other judges - Jason Derulo, Paula Abdul, and Nigel Lythgoe was against the idea and gave her a ticket to the next round of auditions that took place at "The Academy," to audition for the So You Think You Can Dance (SYTYCD): The Next Generation.  
She appeared in the first episode of SYTYCD: The Next Generation, in 2016 but couldn't compete past the academy stage. After her performance in the SYTYCD, she discussed about the struggles, bullying, and challenging moments during her time in Dance Moms.
In 2018, the dancer also toured the United States with other stars from Dance Moms. 
Breakthrough Role in 'Tall Girl'
The emerging actress's first significant acting role was as the lead character Jodi Kreyman in the Netflix film Tall Girl, which premiered on September 13, 2019.
The Netflix original follows a high school student who is taller than her peers and is often mocked because of her height. However, when a new guy arrives at her school, Jodi believes they're a perfect match because he's also tall. 
When the tallest girl in high school falls in love with a handsome foreign exchange student, she finds herself in a surprising love triangle.
Her Role Made Her Embrace Her Height
In the movie, Jodi also refused Jack Dunkleman's (played by Griffin Gluck) overtures since he was shorter than she was. Michelle also overcame her apprehensions about dating shorter boys. "I don't think it's really about the height," Michelle stated in a February 2022 interview with UPI. "I think it's about the confidence in yourself."
Michelle noticed that boys who asked her not to wear high heels or hunch down to their height in photographs were concealing other concerns. Michelle stated she even accommodated shorter males in her career, citing a photo opportunity she had backstage at the Teen Choice Awards with Anthony Anderson as an example.
"I crouched down a little bit because that was the reaction I had to so many people. He was like, 'Stand up, stand tall, it is beautiful.' That was such a huge moment for me hearing someone say that to me. Thanks, Anthony Anderson," Michelle said.
The actress is also grateful for her role, which has taught her to embrace her stature.
"I don't think I truly embraced or loved my height until I made this film, if I'm being honest with you," the Tall Girl alum stated. "I think I told myself I did, but I was so self-deprecating all the time. I would make jokes about my height so that no one would first."
'Tall Girl 2'
In April 2021, she started filming the sequel to the Netflix comedy film Tall Girl directed by Nzingha Stewart and screenplay by Sam Wolfson. 
Tall Girl 2 is a sequel to the hit 2019 film Tall Girl, and it heralds the return of writer Sam Wolfson, with Emily Ting replacing Nzingha Stewart as director. While the first Tall Girl picture garnered mixed reviews, the teen film was a smashing hit for Netflix, with 41 million households streaming the movie on its first day.
Tall Girl 2 premiered on Netflix on 11 February 2022. The movie delves more into the hardships of Jodi, in which she can relate to herself as a 6-foot-2-inch dancer and performer. Michelle, who is 19 years old, reprises her role as Jodi, the tallest girl in her school.
The first film followed Jodi, her best friend Dunkleman (Griffin Clug), and Swedish exchange student Stig in a love triangle (Luke Eisner). Jodi chose Dunkleman in the end, despite her reservations about his height. 
Jodi and Dunkleman's struggle to make both of their first relationships work is depicted in Tall Girl 2. Michelle explained that teenagers are still building their personalities, which might lead to conflicts.
"They need to be honest with each other and confide in each other instead of acting like everything's fine," Michelle told UPI in February 2022 of their love story.
According to Michelle, the plots in both the Tall Girl films and her character Jodi's highs and lows are still extremely personal to her. "It's literally my life," she says. "I feel like Jodi, and I are on the same emotional journey," said the actress. 
The second installment starred actresses like Sabrina Carpenter and Griffin Gluck, and she loved filming on sets with them. "I was acting, dancing and singing," she stated. "I would be on set and then go to dance rehearsals. It was the best."
At the conclusion of Tall Girl 1, Jodi still hasn't dealt with all of her fears. An inner voice begins to criticize her as she explores her relationship and high school. Michelle admitted that recording her inner voice was difficult since she had to revert to the critical version of herself.
Moreover, Tall Girl 2 features two anxiety attacks for Jodi. Michelle stated that portraying them appropriately was crucial to her to represent people who may experience anxiety attacks.
"Everyone deals with anxiety differently, and everyone's anxiety attacks look different," Michelle said. "I almost fainted a couple of times because there's a lot of breathing."
Is 'Tall Girl 3' Happening?
According to February 2022 reports from Screenrant, it seems plausible that Netflix will approve a Tall Girl 3 at some point, given the success of the original Tall Girl. While no official announcement has been made, it has been reported that if Tall Girl 2 is as popular as the first film, Netflix will show interest in a sequel, following in the footsteps of their other hit adolescent rom-com series.
The article has also suggested there is still the possibility that Jody's story will be continued in a future Tall Girl film, which will most likely show the growth of Jody and Dunkleman's relationship as well as the additional challenges they may face in college life approaches.
Moreover, Screenrant also predicted that if the second installment is successful, Tall Girl 3 might start its production in 2023 and might release sometime in 2024. 
Other Works
Michelle made her runway debut in 2017 during New York Fashion Week and has appeared in many high-end fashion shows since then.
The actress has a self-titled YouTube channel with over 140,000 subscribers as of May 23, 2021, where she posts fashion videos, vlogs, and other videos.
She is also the founder of her clothing line called AVA X JMS with designer Jonathan Marc Stein. The actress told PopCulture that she used the negative aspects of her reality show experience to fuel her body-positive, anti-bullying social media campaign, dance career, modeling experience, new Extended Play, and AVA X JMS apparel line. 
"Honestly, I don't think I would be even close to the person I am without that experience. It has made me, for one, such a strong person. Because now I can literally take anything, anyone yelling at me. Growing up and just going to dance competitions is nerve-wracking, but then I had the extra pressure of having cameras in front of me and having Abby Lee Miller sitting in the audience and then knowing that there were millions of people watching me. It helped with so much of my dancing; just learning and picking up choreography or learning how to perform under an immense amount of pressure. It really did help me. But also, grow and not take everything that someone says and learn how to come out of that a stronger person. It really taught me how to do that at a very young age," said Michelle in an interview with the Popculture.
In a Relationship with her Boyfriend Bryan Pearn
Michelle has been dating model Bryan Pearn for quite some time. Her boyfriend has also previously accompanied Ava to red carpet events.
In August 2021, Pearn made their Instagram debut with his girlfriend Michelle when they were seen out on a walk together.  A few months later, in September 2021, Michelle made it official on Instagram, dedicating a romantic image to Pearn with the caption: "Happy with you anywhere."
Eventually, in November 2021, the couple confirmed their relationship when Pearn affectionately referred to Michelle as his girlfriend while joking about her requesting more Instagram posts.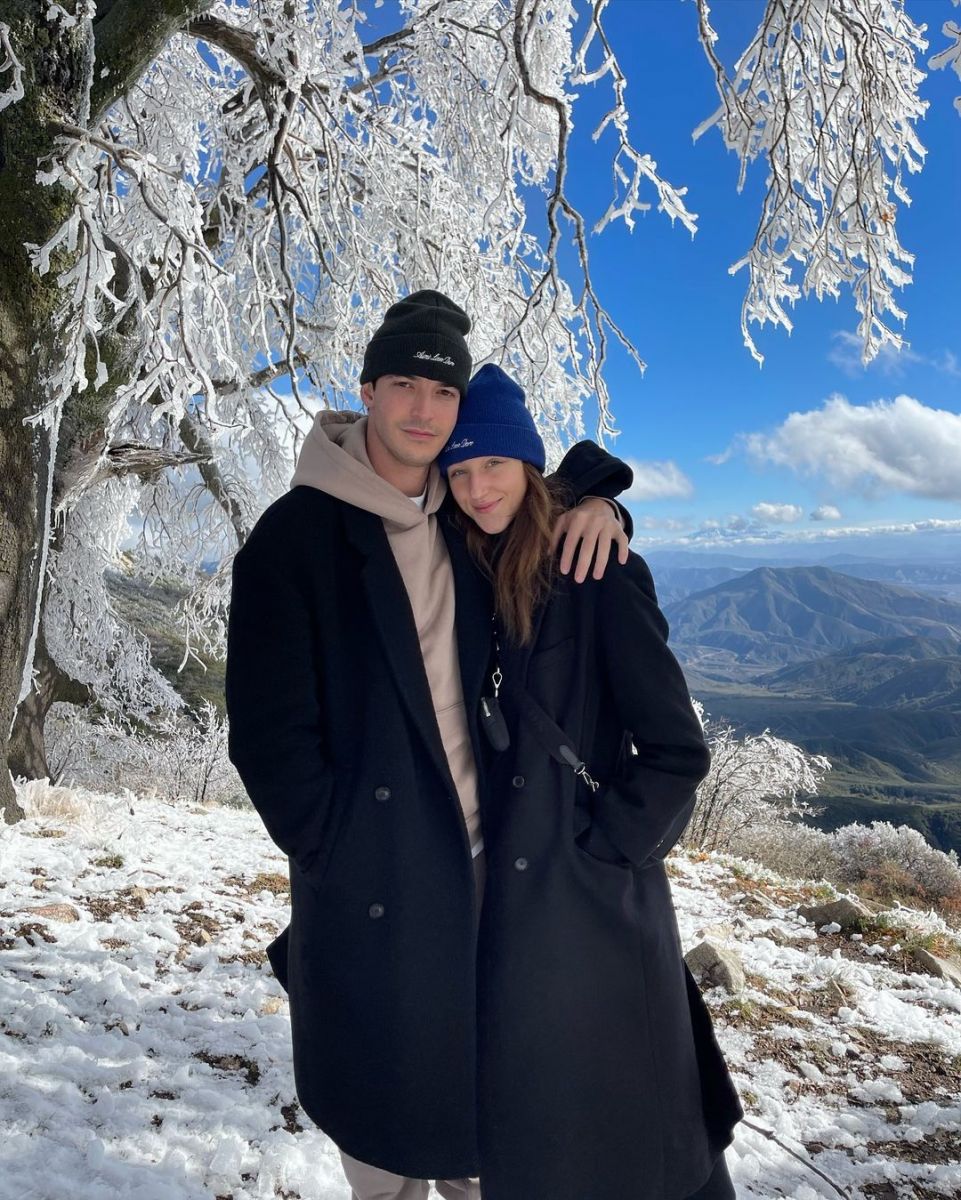 Her Boyfriend is a Professional Model
As a professional model, Pearn has appeared in numerous magazines as a model, including Flaunt and Vulkan, and was named Bello's model of the month in October 2017.
In addition to that, Pearn has served as a stunt expert and dancer. He is also the artistic director of Identified, the apparel line co-founded by Michelle and her mother.
Social Media Campaign - #13Reasons4Me
Inspired by the Netflix series and book 13 Reasons Why, Michelle started a social media campaign labeled #13Reasons4Me in 2018 to encourage people to write 13 things they like about themselves or their lives.
She initially began the campaign through her official YouTube channel to combat negativity spread online.
Fact-checking and Ethical Concerns
We assure our audience that we will remove any contents that are not accurate or according to formal reports and queries if they are justified. We commit to cover sensible issues responsibly through the principles of neutrality.
To report about any issues in our articles, please feel free to Contact Us. Our dedicated Editorial team verifies each of the articles published on the Biographyhost.