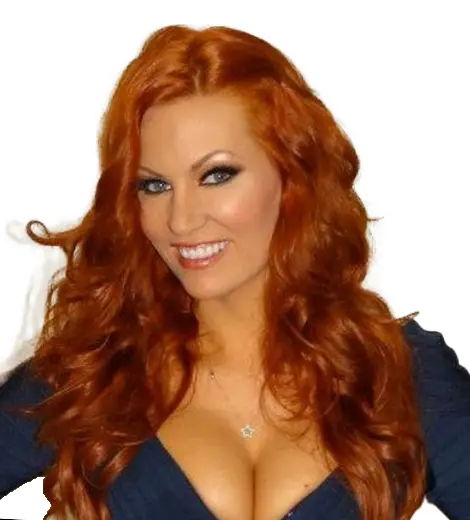 Quick Information
Full Name

April Macie

Occupation

Comedian

Nationality

America

Birthplace

Pennsylvania, USA

Birth Date

September 30, 1976
April Macie | Biography 2021
April Macie is an American comedian, television personality, writer, and actress.
---
April Macie is an American comedian, television personality, writer, and actress. She has won the 'Hottest Funniest Chick' contest in the Howard Stern show in 2008.
Who is April Macie?
April Macie began her career as a professional comedian in 2005. For her, making people laugh has always been her only life skill. In 2006, she became a finalist in the fourth season of NBC's reality contest Last Comic Standing. She gained fame after she won the 'Hottest Funniest Chick in America' competition in the Howard Stern show in 2008. She appeared on E! Entertainment Television, Sirius & XM Radio, Access Hollywood, Talk Soup, HLN, Comedy Central, Dirty Sexy Funny, and the Bob & Tom Show. She is currently starring on NetFlix's Tiffany Haddish Presents: They Ready. 
Early Life
April Macie, in full, April Maciejczyk, was born on September 30, 1976, in Easton, Pennsylvania, the United States, to teenage parents. She went through a lot of tragedy while growing up. An electrical fire burned their trailer when she was an infant. Then her parents moved to live with her grandparents and aunt, who was diagnosed with Schizophrenia. Her aunt committed suicide by shooting herself with her husband's gun when Macie was 10 years old. 
When she was in second grade, her grandmother had a stroke and lost her speech. She retained the use of a few words, including 'good,' 'boy.'
Macie's grandfather contracted HIV in the early 80s through a blood transfusion and died within 10 days. Her grandmother also got infected and died of AIDS. Her mother's side of the family was alcoholics and got arrested often for Driving under the influence (DUI). 
As a young girl who grew up in chaos, dysfunctional upbringing, and abandonment issues, she turned to promiscuity. "I was the girl in high school that had a horrible sexual rumour spread about her, so I spent most of my high school years eating tater-tots alone in the bathroom at lunch because I didn't have any friends," she said. 
She further added, "Growing up, the only time there was any kind of joy in my house was if I was the one dispensing it. So, I guess that carried over into my career. But, I still wouldn't trade it because it gave me a really cool adult life."
Early Career
After going through a breakup, depression, and several other odds in life, Macie was pushed to become a comedian by her father and therapist. 
"I was driving home from the [Los Angeles] Comedy Store one night and I knew that my life had purpose. This is what I'm supposed to be doing with my life. My depression lifted and I even got better at the menial jobs I had to support myself. Everything became a means to an end," she said, recalling how she recovered and entered the comedy world.
"I feel like my life was capsized as a little girl, and it's my job as an adult to patch the holes in my own boat. You can fix your own boat, turn it over, and steer it in the right direction," she added. 
Macie then got into comedy in 2002 and started looking for chances. She had to wait for her turn for weeks to perform on the stage for just three minutes. Due to the lack of comedy material, her performance went inconsistent. She would be called a star at one point in time and wouldn't even have friends next time. After initial struggling days, Macie gradually found her mojo and paved her way to becoming one of the successful female comedians in the world.
TV Shows and Movies
After a couple of years of establishing herself as a comedian, Macie began her professional journey as a comedian in 2005. In 2006, she appeared in the fourth season of NBC's reality contest Last Comic Standing and became a finalist. In 2008, Macie regularly appeared on the Howard Stern show and won the 'Hottest Funniest Chick' contest, which earned her recognition in America. The same year, she starred in the short comedy show April and Christina with stand-up comedian Christina Pazsitzky. The following year, she appeared in Road to Hollywood as herself.
She was part of Showtime's documentary about the stand-up comedy called I Am Comic in 2010. The same year, she was a part of the show Nobodies of Comedy at Easton's State Theatre.
The following year, she appeared in Pauly Shore's 2011 television comedy special Vegas Is My Oyster. The same year, she appeared in the talk show The Naughty Show and starred in the television series A Guy Walks Into a Bar.
In 2012, she was invited to perform in Snoop Dogg Presents The Bad Girls of Comedy to deliver her rare and raw true comedy talent and Bad Girl perspective.
Macie co-hosted the 30th Adult Video News (AVN) Awards in 2013 alongside the 2013 Female Performer of the Year Asa Akira and AVN Hall of Fame inductee Jesse Jane.
The following year, she was a part of the stand-up comedy series Comedy Underground with Dave Attell. She was also a part of the 2014 comedy television series Operation Comedy.
In 2018, she gave a TEDx talk, 'You Don't Look Funny,' where she shared the tragic incidents of her childhood and how she turned her pain into humor. 
She also regularly appeared as a guest on the Bob and Tom radio show and also toured with the Bob & Tom All-Stars.
She got the biggest showcase of her career in 2019 when she was offered a special part on Netflix's stand-up comedy series Tiffany Haddish Presents: They Ready.
Struggles
Macie always said that it is tough being a female comedian. "Stand-up comedy is a very odd profession, especially for a woman. You hear the strangest things like occasionally an emcee will bring me on stage and he'll be like we got something different coming to this stage. We got a lady and you're like why is he bringing me up as if I'm a bear on a bicycle. This is very odd," she said.
Being a comedian was not only challenging during the initial phase, but it remained throughout the career. "I've done some shows in Europe and it's kind of like you're new again," she said. "You have to work on a different skill set that you were never forced to work on. You have to try to find certain words that work for a weird pile of Croatians. I think it does make you stronger because it takes me back to when I was doing bar shows. I haven't done bar shows or a bowling alley in a long time," she added.
Macie appears in 200 to 250 shows a year and spends 35 to 40 weeks a year on the roads as a comedian. "Being on the road 40 weeks a year can drive you crazy. I'm close," she shared. 
She travels internationally as a headlining stand-up comedian, and she has been to 50 states and 62 countries.
Sex Talk on her Comedy Shows
Throughout the comic journey, Macie openly talked about sex. She always wanted people to discuss and talk about sex just like any other subject. "Sexuality is the one common denominator for all humanity. It's a normal biological function. While women's bodies are used to sell things on TV, it's crazy if someone questions that a woman talks openly about herself. It's a little backwards. We constantly see violence on TV, but no one seems to object to that," Macie said.
According to her, men are taught to embrace themselves sexually, but women are taught to feel ashamed. She believed women have the right to talk frankly about intimate moments as men do. Macie often delivered Weiner jokes on her comedy shows. It is not to portray she is more interested in talking about her sex life, but it was an attempt to depict women's pathetic situation that sex is just an obligation for them to fulfill for men. Pouring her belief, she also released two albums, 'I Love Weiners' in 2011 and 'No Shame' in 2017.
In 2013-2014, she co-hosted a weekly podcast with comedian Shane Mauss, called Double Date, in which they mainly talked about sex and relationships.
Awards and Recognition
Macie was named an 'Emerging Talent to Watch' by the Hollywood Reporter at the Just for Laughs Comedy Festival in 2005.
Personal Life
Macie spent dating for years before finding a family-oriented and emotionally supportive man. She met Arya Shopee, an owner of a bar and restaurant, on February 1, 2017, in Florence, Italy. She instantly fell in love with him for his attentive, courteous, goodhearted, generous, calm, wise, and intelligent qualities. They eventually tied the knot in September the same year. In 2019, she wrote her Op-Ed story in the Los Angeles Times, sharing how a travel ban in the United States forced the couple to live apart. Being an Iranian, Shopee was prohibited from visiting Macie's home in the United States since President Donald Trump had put a travel ban on citizens of Iran, among other nationalities. When she found she was pregnant, Macie had to celebrate it alone. Unfortunately, she had a miscarriage on her birthday.
Previously, Macie dated her fellow comedian Mitch Fatel who broke up with her after being unable to handle her openness. 
Fact-checking and Ethical Concerns
We assure our audience that we will remove any contents that are not accurate or according to formal reports and queries if they are justified. We commit to cover sensible issues responsibly through the principles of neutrality.
To report about any issues in our articles, please feel free to Contact Us. Our dedicated Editorial team verifies each of the articles published on the Biographyhost.