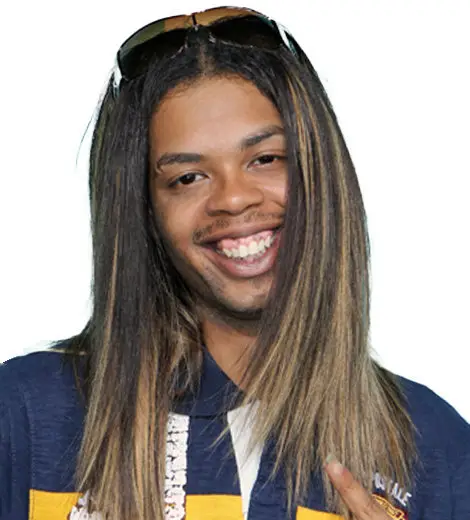 Quick Wiki
Full Name

Antoine Dodson

Occupation

Internet Celebrity, Singer, Actor

Nationality

American

Birthplace

Chicago, Illinois, U.S.A.

Birth Date

Jun 27, 1986

Age

37 Years, 5 Months
Antoine Dodson | Biography 2021
'Bed Intruder Song' meme fame
Antoine Dodson is an internet celebrity who rose to fame after his interview with a news station was reworked into a viral auto-tune hit, 'Bed Intruder Song'. The viral moment sped up his venture to a successful career in music and on the big screen as well.
---
Antoine Dodson is an internet celebrity who rose to fame after a newscast of him warning his neighbors about the rape perpetrators in their area was reworked into a viral auto-tune hit, 'Bed Intruder Song'.
Who is Antoine Dodson?
Kevin Antoine Dodson, also known as Antoine Dodson, is an American internet personality, musician, and actor.
In 2010, Dodson became an internet sensation when his furious rant against his sister's attempted rapist was soundtracked into a meme. Dodson, enraged by the rapist, whom he fought off, addressed the unknown predator and warned fellow Lincoln Park residents in Huntsville, Alabama, "Hide yo kids, hide yo wife," thus giving birth to the 'Bed Intruder Song.' The 'Bed Intruder Song' further contributed to Dodson's ascending Internet fame. 
His internet fame paved the way for his entertainment industry career, which provided him a role in movies like A Madea Christmas (2013), Airplane Mode (2019), and Dr. Fubalous (2012).
Early Life and Education
Dodson was born in Chicago, Illinois, on 27 June 1986. He moved to Huntsville in 2004, and after taking over several jobs, he returned to school.
Six years later, in 2010, his life took a turn after a parody of his news interview went viral, making him an overnight internet celebrity. In addition, the viral meme changed Dodson's status in the neighborhood. 
Career
Dodson's career took a positive turn in 2010 after he gained the attention of myriad internet users following the broadcast of his news interview regarding an attempt to rape his sister.
Interview/Sister
An intruder had allegedly crept into Dodson's sister's bedroom window in July 2010 and attempted to rape her. Fortunately, Dodson and his sister chased the perpetrator. Dodson shared a conversation about the incident with a local Alabama news station the following day, and ever since its broadcast, his life took a significant turn. His interview gained an afternoon news spot on WAFF-TV, a local NBC affiliate, where Dodson gave the viral warning to the public in the housing complex in his sister's neighborhood.
"Obviously, we have a rapist in Lincoln Park," Dodson gazed straight at the camera. "He's climbing in your windows. He's snatching your people up, trying to rape 'em. So you all need to hide your kids, hide your wife, and hide your husband, 'cause they're rapin' everybody out here." 
His interview soon surfaced on YouTube, making him an overnight internet sensation. Millions viewed the original news story, and many people have also watched the Gregory Brothers' music video parody, 'Bed Intruder Song', which includes the auto-tuned remix of Dodson's statement in the original news story.
This viral moment sped up his venture to a successful career in music and on the big screen as well.
Rise to Fame
Dodson gained a comedic reputation after his viral 2010 interview. The interview garnered considerable public attention partly because of his righteous rage, but primarily because of his lurid accentuation of phrases like "go and tell that, homeboy!" and "hide your kids, hide your wife." The Gregory Brothers, a Brooklyn-based family band, further remixed Dodson's famous interview into an auto-tune hit, 'Bed Intruder Song'. This parody remake edited Dodson's rant and rave into a song that has crossed 150 million views on YouTube as of June 2021. 
The 'Bed Intruder Song' was the most-watched video on YouTube in 2010. 
Dodson also made a pop-cultural presence that year, performing the hit song at the 'BET Awards' and appearing with Carson Daly on NBC's New Year's 2011 live broadcast. Dodson and his family, who were living in public housing before the viral incident, could purchase their own home later using the earnings brought by Dodson's meme-star reputation. Gregory Brothers and Dodson split revenues 50/50 from the song.
 "We found a house! [We are so] excited … It's for my whole family. And these are new houses that have just been built", Dodson told UsMagazine.com in 2010.
Fighting the Intruder
Dodson met the accused intruder, Rashaad Cooper, for the first time since the 2010 incident at a press conference in Philadelphia in 2014, and had a face-off with him in a celebrity boxing event on the internet on 2 November 2014, organized by Damon Feldman of World Xtreme Entertainment on pay-per-view. Antoine Dodson exacted his vengeance in just one round. Cooper had to be assisted out of the octagon cage ring after injuring his ankle in the first round. Cooper was escorted away by two security personnel in the final shots of the event because of his injuries. 
The fight was "personal" according to Cooper.
The Alleged Rapist
Rashaad Cooper, an actor who aspired to be in Hollywood, and the alleged perpetrator of Dodson's sister, told AL.com his side of the tale in 2014. Cooper claimed Dodson misled the scenario in the interview.
Music
Following the release of his unintentional auto-tune hit, 'Bed Intruder Song' in 2010, Dodson came up with the track 'Lovesick Lullaby'. Dodson took the lead on this emotional tune, collaborating with the musician, Brent Morgan.
In 2010, he and guitarist Justin Pearson had released the original piece 'Lovesick Lullaby' but failed to garner much attention. Morgan's 2011 similar video fared far better. However, with Dodson, the third version of 'Lovesick Lullaby' garnered 100,000 more YouTube views in just four days.
Movies and Tv shows
Dodson appeared in the TV series, B-Sides (2010-2012) in its 2011 episode 'Bed Intruder Cop Show', portraying a cop. In 2012, he starred on Dr. Fubalous  as a reporter in the episode, 'No One Escapes Death'. Dodson also appeared in A Madea Christmas in 2013 as a YouTube Guy and was featured in The TDM HNIC Ghetto News Network in 2017 as the character Boug. He was also a Head TSA at the 2019 Airplane Mode.
He also appeared in TV shows like Internet's Best Talent (2010), 2010 BET Hip Hop Awards (2010), TMZ on TV (2010), Rude Tube (2010), Lopez Tonight (2010), The Hour (2010), Tosh.0 (2011), The Mo'Nique Show (2011), Beauty and the Beat (2013), Mean Gurlz (2013) and the documentary, Almost Famous: A Documentary About Youtube in 2014.
Business Venture
Background check startup, BeenVerified had hired Antoine Dodson in 2010 to help promote the company's newest product, a 'Sex Offender Tracker' app for phones. The app accessed information from the National Sex Offender Registry and mapped sex offenders in and around the app users accordingly. 
Dodson also runs a YouTube channel (antoinedodson24) which has over 90K subscribers. His YouTube site also has a merchandise segment where he promotes T-shirts with messages like "You are so dumb", which he told his sister's perpetrator in the 2010 news broadcast.
Personal Life
In April 2011, Dodson was arrested in Alabama on counts of marijuana possession and other misdemeanor offenses including illicit drug possession, noise violation, speeding, and failing to appear in court on former warrants. According to the Madison County Sheriff's Department, the next day, Dodson was released on parole, but he still faced a year in prison on the charges.
After he was released, he took it to Twitter that read, "Let me be the first to tell it!! So just got out of jail off a weak charge. LmaORoTfF!!!!!"
Sexual Orientation
Dodson was formerly an openly gay person, but after joining the Hebrew Israelites in 2013, he recanted his homosexuality, claiming, "I want a wife and family, I want to multiply and raise and love my family that I build." Dodson concluded his new status as a "True Hebrew Israelite descendent of Judah" in a series of tweets and had called his previous lifestyle "foolish."
He later released an apology video to the LGBTQ+ community on his YouTube channel in 2013 stating, "Technically I'm a part of LGBTQ fight for equal rights because I've done it my entire life. That is basically what I based my life on. So today I want to make a public apology to the LGBTQ community and say that I am sorry from the bottom of my heart. I would never say anything out of the way to anyone because this is not right"
"When I went public two years ago I think that was a big mistake on my part. As the man I am, I can apologize for my mistakes", he added.
However, he confessed he was a bisexual in a 2018 BET interview.
Wife
Dodson and his wife together have a beautiful baby boy. Dodson had announced the news in 2013, despite priorly disclosing his homosexual orientation. 
However, his girlfriend's identity is still a secret.
Fact-checking and Ethical Concerns
We assure our audience that we will remove any contents that are not accurate or according to formal reports and queries if they are justified. We commit to cover sensible issues responsibly through the principles of neutrality.
To report about any issues in our articles, please feel free to Contact Us. Our dedicated Editorial team verifies each of the articles published on the Biographyhost.