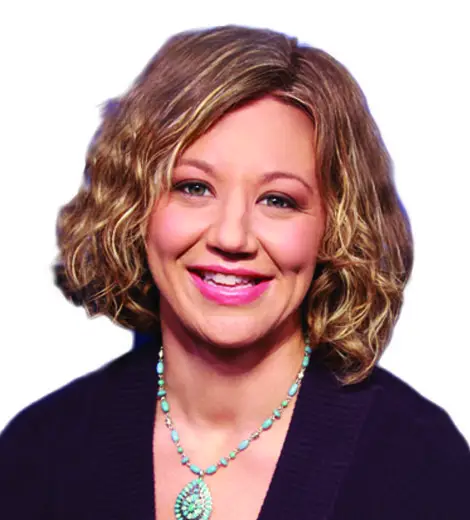 Quick Wiki
Full Name

Amy Lawrence

Occupation

Television host, Sports Commentator

Nationality

American

Birthplace

New Hampshire, US

Birth Date

Apr 07, 1973

Age

48 Years, 7 Months
Amy Lawrence| Biography 2021
After Hours With Amy Lawrence'
American sportscaster Amy Lawrence is considered as one of the leading voices on sports radio. She is also the first female in Oklahoma television history to run her own sports radio talk show. 
---
American sportscaster Amy Lawrence is one of the leading voices on US sports radio. She has years of experience in color commentary and in-game analysis of sports such as NFL, NBA, and MLB. She is also the first female in Oklahoma television history to run her own sports radio talk show. 
Who Is Amy Lawrence?
She currently hosts the late-night weekday show 'After Hours With Amy Lawrence' on CBS Sports Radio. In 2020, the show also began airing on CBS's WFAN from 3–5 AM. In the early 2010s, she had made a mark in the industry as one of the most renowned sportscasters. Her talent and perseverance paid off as Lawrence made it to the list of Talkers Magazine's '100 Most Important Sports Talk Radio Hosts in America.' 
Early Life & Biography
Amy Lawrence grew up with Polish and Italian family background. She regards her mother, including other regular influential people in her life, such as her female friends who have raised their children with values, as one of her role models.
Her definition of a role model is someone with whom we can connect on a personal level. She commends her mother's perseverance for "raising two kids by herself" despite struggles and practicing "the grace and love of Jesus." She recollects that she has learned important life lessons from her other role models, such as her grandmother and her high school teacher.
"Other role models include my grandmothers (one now at 93), my high school English teacher, a former pastor, several father figures who cared for me, a godly friend who's also an NFL agent and faces the same hurdles in her line of work that I do in mine. Mentors that we know on a personal level carry the greatest impact," she writes in her blog post titled 'Role Model, Not Supermodel' in 2015. 
She was into basketball in her childhood and watched Bolton Celtics and Denver Broncos. Her interest in the sport led her to listen to the radio channels since cable TV wasn't available. 
 "Growing up in the backwoods of Concord, New Hampshire, we didn't have cable TV for awhile. The only way I could follow my beloved Boston Celtics and my all-time favorite athlete, Larry Bird, was to listen to games on the radio," she says. "I fell in love with the idea of describing the action or telling a story in a way that fans don't feel like they're missing anything just because they can't see what's happening with their own eyes. I've been a radio junkie ever since. Radio is my passion and will always be my bread and butter."
She grew up following play-by-play commentary throughout her childhood to teenage years. "My first play-by-play memories are from my bedroom in the Concord, New Hampshire, house where I grew up. I would listen to my beloved Boston Celtics on the radio while doing my homework because we didn't have cable TV out in the woods. I would also sneak a little radio under the covers to listen to the Denver Broncos when they played on Monday Night Football," she recalls her memories. "I was supposed to be sleeping, but I couldn't turn off the action until I knew if John Elway led my favorite football team to another win. Not only did I grow into a huge sports fan, but I also fell in love with radio play-by-play."
Her teenage dream was to be "the first female Johnny Most, the first woman to serve as the radio voice of the Celtics." 
Later, she also got interested in baseball and started following the Red Sox. She would then end up following San Jose Sharks after Joe Thronton was traded from Boston.
Education & Early Career
Lawrence earned a Bachelor in Communication degree from Messiah College. Lawrence then traveled to New York to pursue her Master's degree at Syracuse University. While studying at the university, she became a fan of the university's basketball teams.
She also began doing play-by-play commentary on her own in the stands during the women's games using a tape recorder. Later, the college radio station manager provided her an opportunity to do her first "real" play-by-play commentary. 
"My first college action, and I had very little idea what I was doing, ha! I'm grateful for the experience and the chance to stretch myself; but at that point, I decided basketball was my niche," she wrote about her love for basketball and play-by-play inspiration in her blog post titled "Play-by-play Madness" in 2015.
 A few years later, she was one of the play-by-play commentators for the New Hampshire-based Lebanon High School boys' basketball team. After the team "battled into the state championship game," she was covered by Boston Globe as "the only female in the state doing play-by-play."
"When the spread came out, my family bought a dozen copies, and Mom laminated the article and photos for me. I still have it packed away somewhere. I used to send a copy of the story along with my resume and tape when I applied for jobs," she recalled.
After the role as a play-by-play commentator, she began serving as a "News & Sports Director for a radio station with a 100,000-watt signal" at Woodward, Oklahoma. For the station, she covered basketball, high school football, and American Legion baseball. After that, she went to Oklahoma City to do play-by-play commentary in softball games for "the University of Oklahoma at the Women's College World Series."
In the next few years, she would cover games on television and radio for "the University of Rhode Island as well as the Big East."
Big Break
Her big break came in 2008 when the University of Hartford hired her to do play-by-play commentary for the women's basketball team, the Hawks. 
"Head coach Jennifer Rizzotti put that program on the fast track, and I was privileged to be along for the ride. An upset of #5 Duke in Chicago; trips to UConn, Ohio State, Louisville, and Notre Dame; holiday events in Cancun and Florida; buzzer-beaters and battles for conference supremacy; America East title tilts; 20 straight wins; and a trio of NCAA tournament games," she writes. "My 6 seasons with Hartford catapulted me into the fire and prepared me to navigate every possible play-by-play challenge."
Her first play-by-play commentary for a radio network was for Westwood One's coverage of the Big East Women's Championship. She recalls that she was "nervous as a rookie" in the beginning. 
"It took about five minutes of game action before I settled down. It's a good thing I had the players' names memorized because I couldn't see a thing on the charts in front of me. Once I got into the flow of the game, I was in my element as always. But the magnitude of that moment was not lost on me. I'm so grateful for all the family and friends who listened across the country and bombarded me with texts of support and encouragement," she shares. 
After the coverage, she would get a chance to be part of the network's coverage of the "women's NCAA regional final in Oklahoma City Sunday night." 
After graduating from Syracuse, Lawrence earned stints in various local radio shows. Before she joined CBS in 2013, she also gained the experience of being associated with ESPN radio for nine years. 
ESPN Radio and 'After Hours With Amy Lawrence' on CBS
In 2013, she joined CBS Sports Radio to host 'After Hours With Amy Lawrence' on weekdays from 2:00–6:00 AM ET worldwide. Before that, she had worked as an only female regular ESPN radio host for nine years. She had joined ESPN radio in 2004.
This late-night sports talk show began airing on the sports broadcasts, featuring Lawrence in the humorous yet bold persona that she had perfected over the years. The show features audience phone calls and opinions, her lengthy unfiltered humor-filled commentary on sports with references to food and pop culture, and analysis from Lawrence about the popular sports stories. 
"The more you listen to my show After Hours on CBS Sports Radio, the more you hear common themes. Of course, we talk about sports. But we also mix in healthy doses of pop culture, "Star Wars" references, quirky humor, and FOOD. So much food! Growing up Polish and Italian, I come by it honestly," she wrote on her blog Amylawrenceexp.
Her short brief on CBS sports websites reads, "Amy Lawrence brings her passion and style to her late-night weekday show. She will keep her night-owl listeners entertained as she discusses the day's hottest topics in sports." CBS has made available podcasts of her each shows on the show's website.
On Recording 'After Hours With Amy Lawrence'
When asked about her show recording style in an interview, she revealed that the show was "100% "live" every hour, every show." However, she replied that her team may schedule interviews during the daytime for the ease of the visiting guest and coaches. She elaborated that her crew was always active on-site to create "original, entertaining" content. 
On another question about balancing sleep and her late-night job, she stated that she would sleep in the free time and "get in bed around 8 AM and try to sleep until 3:30 PM."
"It doesn't always work that way, just like you don't always sleep through the night uninterrupted. But that's the goal. Oh, and I LOVE to nap on weekends," she explained.
Lawrence's food hours also match her work schedule. In the interview, she shared, "On a typical day, I eat breakfast around 4:30 PM, haha. "Lunch" usually happens between 9–10 PM before I leave for work. I always take a ton of snacks with me to host the show since talking makes me hungry for some reason. After all these years, I'm convinced I burn lots of calories while I'm using all my brainpower to stay coherent, entertaining, and energetic. If I don't eat, the work suffers. You can probably tell on air."
According to her, she prepares "one hour for every hour" when she is on air. She says she requires a "lot more time" when covering NFL Sundays. 
"On average, I prep one hour for every hour I'm on the air. That includes watching or listening to games (obviously, NFL Sundays require a lot more time), reading stories and articles, doing pertinent research, taking notes, posting on social media, developing my opinions, and brainstorming new ideas. I also spend several hours a week writing my NFL column for the CBS family of websites, she says.
She also shared in the interview that she watched sports, enjoyed cooking, spending time with her friends, family, and dog Penny, and like watching Nashville and crim dramas on her DVR when she is not recording.  
Opinions and Revelations
In a blog post titled 'Handling Harassment,' Lawrence sheds light on the unfavorable working environments she experienced during her industry journey.
While retrospecting all the hardships she had to face as a woman in the industry, she writes about a constant state of sexist stigma shown by the male in her industry. 
She then disavows activities such as setting inappropriate screensavers of women on the newsroom's computers and passing inappropriate nicknames, emails, texts, or comments to women. 
She writes that the newsroom was like a boys' "locker room," where she hardly crossed paths with other women. She reveals that she acted "funny" and used "coarse language" to blend in with the guys. 
She then recalls how the working environment she shared with men who used inappropriate language and insulting comments made her uncomfortable. 
One story she uses in the blog to highlight how she worked as a voiceless individual is that of a radio owner who made fun of her 'sexual abstinence' in a room full of people. 
She then follows the story by writing that her journey has made her professional enough to tackle harassment much better. She accepts that the time has changed since her struggling days. 
She finally ends the post by writing about the importance of standing up against injustice and unfairness. 
...I remind men I'm in the room if their language or stories make me uncomfortable, and I tolerate very little harassment on social media. I don't care who likes me or dislikes me because of it. I no longer need to fit in. I'm proud of the fact that I never will. Being different, being unique, being unconventional is a huge part of my success. It shapes who I am. It took some time and heartache, but I finally recognized that standing out instead of blending in can be my greatest asset.
Interesting Facts
1. Amy Lawrence is yet to feature on a Wikipedia Page.
Fact-checking and Ethical Concerns
We assure you that we will remove any contents that are not accurate or according to your reports and queries if they are justified.
We commit to cover sensible issues responsibly through the principles of neutrality. If you find any issues in our articles, please feel free to Contact Us. Our dedicated Editorial team verifies each of the articles published on the Biographyhost.