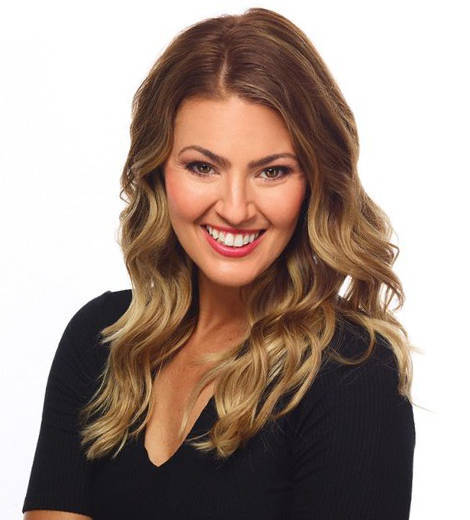 Amanda Balionis | Biography 2021
Amanda Balionis is an American reporter for CBS Sports who primararly covers golf. She has also worked for the network's NFL and college broadcasts.
---
Amanda Balionis is an American reporter for CBS Sports who primarily covers golf. She has also worked for the network's NFL and college broadcasts.
Who is Amanda Balionis?
Amanda started her career as a high school sports sideline reporter for Verizon Fios Channel 1. She honed her skills covering high school sports at MSG Network from 2009 to 2011, where she served as a color commentator for the network's high school volleyball coverage. Her big break came when she joined CBS Sports as a part-time gold reporter in 2017.
Early life
A native of Pennsylvania, Amanda Balionis was passionate about sports since her childhood. The single child was introduced to golf by her parents. They signed up for golf lessons when she was nine years old. Initially, she didn't like being alone at the golf course and was interested in social sports like volleyball and swimming. However, it would be golf that will cement her a stable career in the broadcasting industry. She would learn to enjoy golf and reporting it in a later part of her CBS career.
"The funny thing about this game of ours is the more you play the more inconsistent you become," she said in an interview with Newsday. "I'm getting better. I have really bad days, and I have really good days. If I can break 100, I am thrilled," she shared about her improved golf skills after joining CBS. 
In high school, she was an outstanding volleyball player, and later as a college career at Kutztown University, she played for several years. Balionis nevertheless always wanted to pursue a career in journalism in broadcasting. When someone suggested Hofstra University and its environment in New York City, she knew instantly that the place was her.
During her time at the university, she was involved with the student newspaper. She also interned for the likes of New York Jets, CBS 2, the New York Islanders, NOW, and ABC News.
In 2008, she graduated with a major in Broadcast Journalism and minored in Philosophy from the university. She had transferred to the university from Pennsylvania.
After her graduation, Balionis would edit and shoot her own online segments and write articles as a part-time contributor for the Sunday Paper in Lanchester, Pennsylvania.
Career
Shortly after her resignation from her part-time job, Ballionis was offered a job of sideline football/lacrosse/ soccer for Verizon Fios Channel. Between 2009 to 2011, she improved her coverage skills of secondary sports in MSG Network and worked as a color commentator on the secondary school network's volleyball coverage.
As an in-house reporter and host in 2011, she joined the PGA Tour to produce and report on the tournament's highlights, shows, and events. After five years of working with PGA, she wasn't quite happy with the job as she always wanted to be a golf broadcaster. 
She signed up with Callaway Golf in 2016 to serve as an in-house reporter for the golf manufacturer to produce digital content. But she wasn't happy with the work either because it was stressful to remain in "cubic" Monday to Friday. In 2017, when Balionis joined CBS as a part-time golf reporter to cover "Smart Cart" and later worked in selected tournaments. She was later appointed as a full-time CBS golf journalist in 2018.
On joining CBS, Ballionis said in 2017, "I just felt really lucky and grateful for the fact that anybody felt confident in me to take a risk. Because it was a role that they hadn't really tried out before.
"CBS had this Smart Cart for a couple years but everyone on that broadcast is just so busy with their roles, there really wasn't someone who could fully dedicate themselves to the Smart Cart. When I got the phone call asking if I wanted to be a part of this team in that role, it was a humbling phone call to think that anybody believed I could fit that role," she added.
"It was really cool, and I called my parents and told them I was going to be on the CBS broadcast. And I think they thought I was going to be on a digital broadcast or something on a local CBS station. I don't think they fully understood what I meant. But after my first hit at the Genesis Open, the first text I got was from my mom, and she said, 'Oh my Gosh, Jim Nantz knows your name!' I was like, 'I know!' So that was a surreal moment. In this business, the CBS Golf team is the best of the best, so I just feel so grateful being a part of it," she shared.
Additionally, she works as a sideline reporter for select NFL On CBS and CBS Sports Network college football games, in addition to her golf coverage. In 2019, she was recruited for the first time to work the Super Bowl. She has said that her "dream gig" would be "full-time football and golf."
"All week last week I really battled with, 'Okay, I need to be reading every golf article I can possibly read.' And then every time I started, I was like, 'No, no, no. I need to be reading every football article I can possibly read.' It was really challenging to focus for me. It's the first time that I had a quick turnaround like this, with two very high-profile events back to back. But it's been great. I love being challenged, and I love doing new things," she shared in 2017 about balancing the football and golf coverage.
On Her Growth As Broadcaster 
Ballionis says that she lacked "confidence" in her early years when she was making brief appearances on television in roles such as a "post-round interviewer. "You're only telling a small part of the story, but your room for error is pretty much zero. If someone is going to see you for a minute or two, and if you mess up once in that minute, that's all they're going to remember. And that used to weigh on me a lot," she remarks.
To tackle her insecurities, she says she overprepared by doing activities such as creating "too many notes" and analyzing vast amounts of information. "It was basically just me in a way saying, 'Look, I know what I'm talking about.' And that doesn't work," she reflects. 
But as time passed, she found her confidence and believed in what she had learned about golf. 
"It took me awhile to have the confidence to where I didn't need to prove to the player I'm talking to, or the viewer out there, that I know the game of golf. That's not my job. My job is to ask the right question and get the player to talk. ... So that was the big difference, and I think the turning point there was when Turner Sports hired me from their digital side to do their TNT coverage of the PGA Championship, and I felt that was a real sink-or-swim moment for my career," she reflects.
Yoga Instructor
In addition to being a journalist, she is also a yoga teacher. She became a certified teacher after completing 200 hours of schooling. As a result, she is dedicated to assisting herself and others in achieving fit bodies and relaxed minds. She claims that her that she wouldn't enjoy golf as much, and her life would have been a "mess" without yoga.
"Thanks to yoga, I had the tools I needed to step back and gain perspective. I accepted the moment for what it was — a round of golf at an incredible course with two gracious members. Nothing more," she reflects on the effects yoga had in her life. 
"About three years after I discovered the practice, I became certified in Baptiste-style training. It was an intense 200-hour journey that transformed my mind because it forced me to sort through my own issues before having the capacity to teach others. I now teach whenever I can, and I continue to practice yoga at least a few times a week—the length of each session ranges from 10 to 90 minutes, depending on how stressed I am that day," she shares.
After learning through the ropes, she says she explored golf and yoga's similarities in terms of physical and mental challenges. 
"That's why golf and yoga are far more similar than people realize—in golf, even if you've mastered the swing, you'll never be satisfied if your mental game is weak, and vice versa. Golf is sneaky demanding of both physical and mental strength, and practicing yoga off the course is a powerful way to maintain control on the course," Amanda shares.
Puppies and Golf
 Balionis is an animal lover. She launched a charity named Puppies and Golf in 2020 with a mission to "protect and advocate for dogs." The charity first initiated as a t-shirt collaboration and later got  organized as a proper charity,  
Father's Death
Balconies father died in September 2018. Soon after, she gained 15 pounds amidst the emotional and mental trauma she had been facing. In an Instagram post dated August 2019, she disclosed that she had been visiting a "therapist" and adopting a healthy lifestyle to deal with her emotions in a "healthy" way. She wrote:
My Dad passed away unexpectedly last September. In the span of about 2233ks afterward, I put on approx 15lbs.

Obviously, this was not a focus for me, and I figured it would just come off with exercise/diet like it has in the past, and the priority was to honestly just keep my head above water and not cry every 20 minutes, especially once I get back to work.

I began to see various doctors, talk to a therapist (EVERYONE needs a therapist in my opinion0, meditate daily, listen to podcasts, and read books about how to actually acknowledge my emotions and deal with them in a healthy way.

The biggest lesson (I learned) probably being, (you) can't fool your body. Listen to what it has to say. Also - ask for help when you need it. It's not easy to deal with or talk about, but I promise you're not alone and that it's not a permanent time in your life.

And finally - stop judging yourself so harshly and embrace the changes in life that you can't control. I am where I am right now, and it's helping me to become the person I'm meant to be in the future. Sometimes it sucks, but all I can change is my attitude, not the circumstances. 

Hope some of this helps anyone else who has been fighting some internal shit. It's not easy to deal with or talk about, but I promise you're not alone and that it's not a permanent time in your life. This, too, shall pass.
Personal Life & Fiancee
Balionis got engaged to former UNC (University of North Carolina) and NFL quarterback Bryn Renner on February 26, 2021. She shared about the engagement on Instagram with an image clicked with Renner. On the post, she was seen showcasing the engagement ring with Renner on a beach. She wrote: "Hey (BrynRenner)...forever sounds kinda perfect."
In January 2021, FIU Panther's head coach Butch Davis promoted Renner to its quarterback coach. He had been previously working as the Florida International University's cornerback coach.