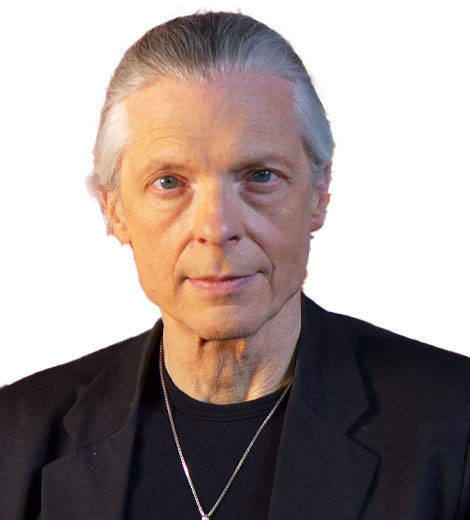 Quick Wiki
Full Name

Alex Grey

Occupation

Visual Artist

Nationality

America

Birthplace

Ohio, USA

Birth Date

November 29, 1953
Alex Grey | Biography 2021
Alex Grey is an American visual artist, author, teacher, and Vajrayana practitioner. He is known for his paintings that depict anatomy with psychic and spiritual energies.
---
Alex Grey is an American visual artist, author, teacher, and Vajrayana practitioner. He is best known for his paintings that depict multiple layers of reality and portray biological anatomy with psychic and spiritual energies.
Who is Alex Grey?
Alex Grey is a renowned artist in the field of art and spirituality. Born in 1953, his innate interest in drawing led him to pursue a formal education in fine arts. After working at the Anatomy department and Mind/Body Department of the Harvard Medical School, he turned his knowledge about anatomy, healing, and psychedelic drugs into a visionary art. His art portfolio started in drawing, and it expanded to paintings, installations, sculpture, performance art, and process art.
Grey's artworks can also be found in his books 'Sacred Mirrors: The Visionary Art of Alex Grey' (1990), 'The Mission of Art' (1998) and 'Transfigurations' (2001), and more.
Early Life and Education
Alex Velzy, alias, Alex Grey, was born on November 29, 1953, in Columbus, Ohio, United States. His father was a graphic designer and artist who encouraged his early drawing ability and guided him as a teacher. When he was five years old, Grey collected insects and dead animals and buried them in the backyard. He would then make a drawing of its skeleton. Anatomy played a vital role since his early artworks as his arts had subjects like identity, morality, and consciousness.
In his early teens, Grey did his science project on a drug called Lysergic acid diethylamide (LSD). LSD wasn't illegal at that point.
From 1971 to 1973, Grey attended the Columbus College of Art and Design on full scholarship. Dropping from the art school, he painted billboards for Columbus Outdoor Advertising for a year. In 1974, he moved to Boston and studied at the School of the Museum of Fine Arts.
Early Journey
While studying at the School of the Museum of Fine Arts, he worked as a studio assistant for conceptual artist Jay Jaroslav. At the Museum School, he met his lifetime partner artist Allyson Rymland Grey, with whom he took 'sacramental journeys' on LSD. 
For five years, Alex worked in the Anatomy department at Harvard Medical School, preparing corpses for dissection while studying the body himself. Later, he worked for Dr. Herbert Benson and Dr. Joan Borysenko as a research technologist in the Mind/Body Medicine Department of Harvard. He conducted scientific experiments to investigate subtle healing energies at the department.
Grey's anatomical training prepared him for painting the 'Sacred Mirrors', and upon seeing images of his 'Sacred Mirrors', Doctors at Harvard hired him as a medical illustrator. He instructed Artistic Anatomy and Figure sculpture at New York University. He, along with Allyson, also taught Visionary Art Intensive and other art workshops at several institutes in Colorado, California, and New York.
Although it was not his career ambition, Grey worked as a medical illustrator for about ten years to finance his addiction to art and support his family. 
About his career as a medical illustrator, Grey said, "Medical illustration gave me the opportunity to investigate and portray the bodily systems in dramatic ways. Prior to my work as a medical illustrator, I prepared bodies at a medical-school morgue, which provided important training for understanding the fleeting nature of life. It also provided unforgettable studies into the iridescent, fibrous architecture that forms our physical body."
Paintings
When Grey was 18, he painted splitting heads and bodies. It was called 'identity-crisis imagery.'
"For instance, I painted a two-headed self-portrait, tearing myself in half, one side in the shadow, one side in the light. In later performance works, I kept half my head shaved for half a year. The other side of my hair was very long. I discovered that there was some scientific basis to the splitting of cerebral activity. The right hemisphere of the brain is primarily intuitive, and the left hemisphere is primarily logical. Obviously, a well-functioning brain and mind will be a balance of both these forces," said Grey, explaining his painting style during the initial days of his life. Moreover, his paintings blend sacred, visionary art and postmodern art. 
LSD for the first time
In 1975, at the age of 21, he thought of ending his life. He was depressed and found his existence meaningless. He took LSD for the first time, and like a miracle, he met his future wife within 24 hours. They got the vision to build a new kind of sacred space to house art based on the psychedelic mystical experience at their meeting.
Projects
Entheon
After getting a new vision of art based on the psychedelic experience, Grey and his wife co-founded Entheon. It is the sanctuary of visionary art which consists of a three-storied building surrounded with massive ornamental sculptures of interconnected faces bearing symbols of humanity's wisdom traditions. It generates the metaphor of symbolically walking into God's head. Another goal of the project was to exhibit the 'Sacred Mirrors' and the Chapel of Sacred Mirrors (CoSM) collection and various unique psychedelic relics of Grey. 
In 1979, Grey began creating a unique series of contemporary sacred art called the 'Sacred Mirrors'. It is a life-sized series of 21 paintings, which presents the physical and subtle anatomy in the context of cosmic, biological, and technological evolution. It took ten years for him to complete the series. 
CoSM
In 1996, Grey formed CoSM as a non-profit organization to create a permanent public exhibition of the 'Sacred Mirrors'. The goal of the CoSM was to provide unique creative events and workshops in a spiritual context. Since January 2003, it celebrates Full Moon Ceremonies every month.
Publications
Grey has various published works to his name.
'Sacred Mirrors: The Visionary Art of Alex Grey'
In September 1990, Grey's large-format art book entitled 'Sacred Mirrors: The Visionary Art of Alex Grey' was published by Inner Traditions. The book is based on a series of paintings that take viewers on a graphic and visionary journey through the self's physical, metaphysical, and spiritual anatomy. The book also takes one to the spiritual/ energetic systems with such images as 'Universal Mind Lattice.' New York-based copy-editor and writer JP Harpignies has reviewed Grey's book as distinctive contemporary sacred artwork. In the review, Harpignies wrote, "The Sacred Mirrors series is a totally unique work of contemporary sacred art created by Alex Grey between the years of 1979-89. This installation of framed images, consisting of paintings and two etched mirrors, examines the anatomy of body, mind and spirit in rich detail. Each painting presents a life-sized figure facing viewers and inviting them to mirror the images, creating a sense of seeing into oneself. By open-minded aesthetic contemplation of the Sacred Mirrors, one's identity shifts from a material body to spiritual light. The life-sized representations of the human body, portraying its physical and energetic systems, are both scientifically precise and vividly visionary. The Sacred Mirrors dramatically reveal the miracle of life's evolutionary complexity, the unity of human experience across all racial, class and gender divides, and the astonishing vistas of possibility inherent in human consciousness. Alex Grey's art combines ancient wisdom, anatomical accuracy, and post-modern eclecticism to produce elegant, universally accessible, eternally relevant and resonant symbols."
'Sacred Mirrors: The Visionary Art of Alex Grey' was one of the most successful art books of the 1990s. The book has been translated into five languages and sold over 150 thousand copies. It includes essays on the significance of Grey's work by the eminent transpersonal psychologist Ken Wilber and by the noted New York art critic Carlo McCormick.
'The Mission of Art'
In 1998, Grey's philosophical text, 'The Mission of Art', was published by Shambhala. It uncovers the evolution of human consciousness through art history and explores the role of an artist's intention and conscience, echoing the creative process as a spiritual path.
'Transfigurations'
Grey's second large-format art book, 'Transfigurations', was released by Inner Traditions. It contained over 300 color and black and white images of his work. The book explores Grey's popular portrayals of light bodies, performance works, relationship with his wife, and their quest to build a CoSM. Released on 9 November 2004, 'Transfigurations' was a follow-up to Grey's book 'Secret Mirror: The Visionary Art of Alex Grey' and it consisted of the major artworks he completed in the subsequent decade. 
'The Visionary Artist'
In 2000, Sound True released Grey's reflections on art as a spiritual practice, 'The Visionary Artist', on audio as a CD.
'Zig Zag Zen: Buddhism and Psychedelics'
Grey co-edited the book 'Zig Zag Zen: Buddhism and Psychedelics'. He curated a collection of images that only suggest the enormous variety of Budddhist and psychedelic experiences and some of the two's links. The book was originally published in April 2002 and it featured numerous essays, art, and interviews, including of Multidisciplinary Association for Psychedelic Studies i.e. MAPS's founder Rick Doblin. The book was edited by Tricycle contributing editor Allan Badiner whereas Grey edited the art part. 
Collection: Visions
In 2004, he published his collected works in Visions. It was a boxed set containing a portfolio of new work and his 'Sacred Mirrors' and 'Transfigurations'. 
'Art Psalms'
On 2 December 2008, Grey published another book titled 'Art Psalms', combining poems, artwork, and "mystic rants" that blend imagination, creativity, and spirituality. Through the book, Grey has asserted that both creation and observation of art can be a spiritual practice. The book consisted of selections including, artwork that invites the reader to commit to personal and global transformation entitled 'Soul Marriage,' 'Guidance for Servants of God' that guides life towards a sacred path, and 'The Plan' that sets universal and individual creativity. Art Psalms featured 150 reproductions of artworks that intend to enrich and awaken the inner artist in each reader. 
'Net of Being'
In 2012, Inner Traditions released the book 'Net of Being', which consists of spectacular photos of Grey's collaboration with the cult band 'Tool', his worldwide live-painting performances, and his reflections on how art evolves consciousness. In Net of Being, Grey discussed human beings' connection to self, others, and the universe. Further explaining about the book, Grey said, "The book follows an arc of expanding interconnectedness starting with one self, the self in relationship to a partner, to a family, a community, World Spirit and Cosmic Creativity. These are nested shells of identity."
The spectacular images of Net of Being have been used in several platforms including apparel, jewelry, tattoos, and music videos. 
Philosophy, Psychedelics, and Spirituality
With prolific experience in art, Grey contributed to the philosophy of art in his philosophical book 'The Mission of Art'. A combination of memoir, critique, and art history, Grey promotes the mystical potential of art. He argues that the process of artistic creation should play a role in the artist's enlightenment. He also opines that art can elevate the viewer's state and attain the spiritual state of being.
The psychedelic mystical experience between himself and his wife after taking LSD in 1975 also led him to believe in spirituality and spiritual practice.
Documentary Films
Grey appeared in Dutch filmmaker Jan Kounen's 2004 documentary called Other Worlds, explaining his understanding of visionary mystical experience. The documentary was released on 30 June 2004 in France. The same year, he was featured in the documentary film titled Art Mind: The Healing Power of Sacred Art, directed by Jay Weidner. Grey then wrote and starred in the documentary titled CoSM the Movie: Alex Grey & the Chapel of Sacred Mirrors. It was about the visionary art of Alex Grey and his Chapel of Sacred Mirrors, a mystical sanctuary created for community gatherings located in New York City. The documentary detailed Grey's exploration of various stages of humans' psychic and spiritual development which combined his understanding of Western science with Asian and Eastern understanding about the life energy systems. Directed by the filmmaker Nick Krasnic, the documentary also featured Grey explaining each piece of his artwork. The documentary premiered on 25 May 2006 at Sun Valley Wellness Festival, the United States. In 2009, Grey appeared in Mike Kawitzky's documentary Cognition Factor, which explored enlightenment in the digital age. The following year, he shared his perspectives on dimethyltryptamine (DMT) in Mitch Schultz's 2010 documentary titled DMT: The Spirit Molecule. He went on to appear in documentaries such as Electronic Awakening (2011), Burning Man 2.0 (2013), and OZORA Festival 2013: The Official Video (2014). In 2015, he starred in Mike Correll's biographical thriller documentary Chet Zar: I Like to Paint Monsters, based on the life and career of dark visual artist Chet Zar. In 2016, Gray and his wife Allyson Grey starred in the historical documentary Going Furthur. The documentary chronicled the journey that captured footage of festivals, community events, and landmarks across America that covered over 15,000 miles in 75 days, after 50 years of the maiden voyage of Furthur Bus.
Grey also starred in Mark Waters' 2019 documentary Chasing the Present, which follows the story of a materially successful young man who travels the world for self-discovery.
Music
Grey's psychedelic artwork has graced several album arts including those of Nirvana, Beastie Boys, and Tool. Nirvana album In Utero featured Grey's painting entitled 'Pregnant Female'. Similarly, his 'Gaia' artwork has been featured in Beastie Boys' Ill Communications album. His paintings have also been featured as cover and interior of the rock band Tool's Grammy Award-winning triple-platinum album 10,000 Days. Grey also contributed stage design for a Tool tour using his artworks. 
Explaining how he got the opportunity to collaborate with Tool, Grey said, "I had a solo exhibition in Santa Monica and Adam Jones, lead guitar and founder of Tool, inquired with the gallery about my artwork and started talking immediately about album art. He described his concept of the dissectional art for the Lateralus album. He asked me to conceptualize a stage setting using my work to travel with the band on 90 city tours of stadiums throughout the world."
Honors and Recognitions
Grey's spectacular artwork has been honored with solo exhibitions at several galleries, art fairs, and museums including Feature Inc., Styx Gallery, The NYC Outsider Art Fair, Tibet House, The New Museum in NYC, the São Paulo Biennial in Brazil, and the Grand Palais in Paris. As a keynote speaker at conferences across the world including Barcelona, Basel, Amsterdam, Tokyo, and Manaus, Grey has been embraced as an important mapmaker and spokesman for the visionary realm by the international psychedelic community. Grey was also named in the list of '100 Most Spiritually Influential Living People' by Watkins Review (now Watkins' Mind Body Spirit) for a string of years since the ranking was started in 2011. He was ranked as one of the top twenty spiritual influential people for several years. On the list, he was ranked 16th in 2011, 20th in 2012, 12th in 2013, and 15th in 2014. Additionally, The Temple of Understanding awarded both Grey and his wife Allyson Grey as two of the world's top fifty Interfaith leaders.
Personal Life
Grey lives in New York City with his wife Allyson Grey, whom he met in 1975. She is also an artist. The couple had a daughter Zena Grey.