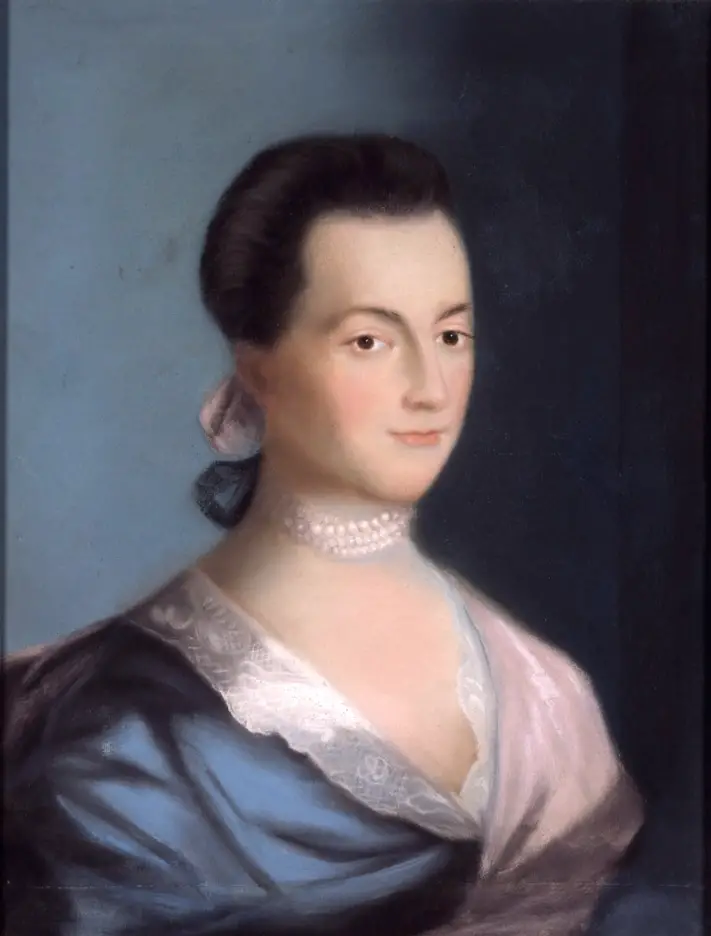 Quick Wiki
Full Name

Abigail Adams

Occupation

Women Right's Pioneer, First Lady, Second Lady, Socialite

Nationality

American

Birthplace

Weymouth, Massachusetts

Birth Date

Nov 11, 1744

Age

279 Years, 1 Months

Death Date

1818-10-28

Did You Know?

She was the first First Lady to live in Washington's White House.

Orignally

Abigail Smith
Abigail Adams | Biography
Abigail Adams is the second first lady of the United States of America. She is the second U.S. President John Adams' wife.
---
Abigail Adams is the second first lady of the United States of America. She is the second U.S. President John Adams' wife. She acted as an informal advisor to her husband John Adams after taking over the presidency on March 4, 1797.
Who was Abigail Adams? 
The second first lady of the United States of America is renowned for her ahead of time progressive opinions and stances on women's rights in America. She had a strong perception of women's capacity for decision making, compared to the presumed character of being confined to serving their husband. 
She advocated on women's education and intellectual abilities to manage their family's moral guide alongside their household responsibilities.
Her notable contribution to that era's politics and her influence on President John Adams' political decision-making gives her a pioneering image among the first ladies. Her legacy reflects her image as a pioneer of women right's activism. She had vigorously objected to oppression, slavery, and inaccurate reports on her husband and son's accounts. She had advanced opinions as one of the few first ladies, and her experiences remain incorporated on her preserved letters.
Her son John Quincy Adams became the sixth president of the country on March 4, 1825.
Early Life 
Abigail Smith was born on November 11, 1744, in Weymouth, Massachusetts, to a liberal Congregationalist minister William Smith and Elizabeth Quincy. She was the second born of her parents and had four siblings: three sisters and one brother.
During those times, women did not receive a formal education as men, but Abigail had full access to their family's library along with her sisters. She started receiving her informal education from the age of 11; she would read the likes of William Shakespeare, John Milton, and many other influential personalities. She was introduced to books by her brother-in-law Richard Cranch, who was married to her eldest sister Mary. 
Meeting John Adams
Abigail and John Adams met at a social gathering in 1761 when she was just 17 years old. John was an acquaintance of Cranch but was also a third cousin of Abigail. They knew each other since their childhood. John was a Harvard-educated lawyer and was nine-years senior to her. 
After insistence from her parents, John and Abigail got engaged and remained so for three years. They got married on October 25, 1764. In the course of their first ten years of marriage, Abigail gave birth to five children: daughter Abigail ( 1765), John Quincy (1767), and Susanna (1768, died in infancy), and Thomas Boylston (1772).
What Did Abigail Adams Do In The American Revolution?
In the second decade of her marriage, John was majorly occupied with his legal works, duties to the First Congress, and eventually at the American Revolution and Revolutionary War. On the other hand, Abigail was bound at home with household works such as raising the children and taking care of their farm. 
While remaining apart, they corresponded with each other through the means of letters. Their letters were continuous, hence tremendous and intimate. Through the letters, Abigail played an active role in suggesting how Adams should manage his business and political affairs. 
There were more than 1,100 numbered letters recollected that were sent between the two. In one letter dated March 31, 1776, Abigail hopes that the revolutionaries, including her husband, would ensure woman rights after America's independence from Great Britain. She emphasizes that women would "foment a rebellion" if not respected and represented fairly. She writes:
I long to hear that you have declared an independency. And, by the way, in the new code of laws which I suppose it will be necessary for you to make, I desire you would remember the ladies and be more generous and favorable to them than your ancestors. Do not put such unlimited power into the hands of the husbands. Remember, all men would be tyrants if they could. If particular care and attention is not paid to the ladies, we are determined to foment a rebellion, and will not hold ourselves bound by any laws in which we have no voice or representation.
After the revolution in 1784, Abigail joined John in Europe, where was he sent for diplomatic relations and stayed there for five years. Upon return, John served as the vice-president under George Washington. During the period, Abigail remained in the capital with John only for a certain part of the time, helping the First Lady Martha Washington entertain the dignitaries. The rest of the time, she would spend taking care of their farm and other business and household affairs in Massachusetts.
In 1997, John became the president of the United States. However, Abigail missed his inauguration to take care of his dying mother at home. 
First Lady
During his presidency, Abigail was highly involved in important political debates of that period, including the conflicts between Federalist and Non-Federalist factions present in the country. She was an indirect advisor to John and often tried to influence his decisions. During the X, Y, Z Affair with the French, Abigail stood on the war declaration while John chose to stand on peaceful and less costly options. However, they stood on the same grounds on enacting the Alien and Sedition Act of 1798.
In the 1800s, Abagail overlooked the replacement of John's residency from Philadelphia to the newly constructed (but unfinished) presidential mansion in Washington, which President Theodore Roosevelt would later name as the White House in 1901. On New Years' of 1801, Abigail opened the mansion for visitors. The tradition begun by Washingtons would continue by every subsequent first lady until 1933. She would be remembered as the first First Lady to live in Washington's White House.
Throughout John's presidency term, he listened to his wife and constructed a spirited and public defense of women's rights petition to the Congress.
When Did Abigail Adams Die?
After John's presidency ended in 1801, Adam and Abigail both retired to their house in Massachusetts.  She died on October 28, 1818, and was buried in the First Church of Quincy. She could not live to watch John Quincy win the presidency on March 4, 1825. However, John lived to see it and eventually died on July 4, 1826, the same day Thomas Jefferson also died.
Fact-checking and Ethical Concerns
We assure our audience that we will remove any contents that are not accurate or according to formal reports and queries if they are justified. We commit to cover sensible issues responsibly through the principles of neutrality.
To report about any issues in our articles, please feel free to Contact Us. Our dedicated Editorial team verifies each of the articles published on the Biographyhost.