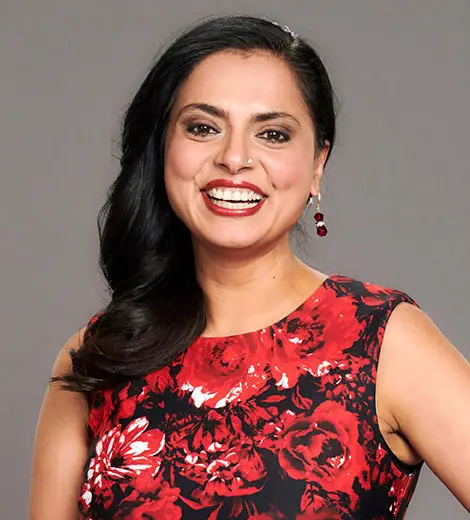 Quick Wiki
Full Name

Maneet Chauhan

Occupation

Chef, Restauranter, Entrepreneur, Author

Nationality

Indian-American

Birthplace

Mumbai, India

Birth Date

Oct 27, 1976

Age

47 Years, 1 Months
Co-owner of the restaurant Chauhan Ale and Masala House
Maneet Chauhan | Biography
Maneet Chauhan is also the co-founder of Nashville's Morph Hospitality Group
To date, Maneet Chauhan has appeared on the judges' panel of several cooking reality shows like 'Guy's Groceries Games,' 'Worst Cooks in America,' 'Iron Chef America,' 'Chopped,' and many more. She has also authored multiple cookbooks like 'Flavors of My World,' 'The Journey,' and 'Chaat.' 
---
Maneet Chauhan is a professional chef and television celebrity of Indian origin. She is best known for her appearance as the judge of the Food Network cooking show 'Chopped.'
Who is Maneet Chauhan?
The Indian-American chef Maneet Chauhan is also an author, restaurateur, entrepreneur, and TV personality. She has served as the executive chef in some famous restaurants worldwide, including the Vermilion in Chicago. 
Maneet Chauhan was born on 27 October 1976 in Punjab, India. She graduated with a Bachelor's degree in Hotel Management from Manipal University, India. Immediately after graduation, in 1998, Chauhan moved to New York and received training in baking and pastry arts from the Culinary Institute of America. She then began her journey towards being one of America's recognized chefs and TV stars.
To date, Maneet Chauhan has appeared on the judges' panel of several cooking reality shows like Guy's Groceries Games, Worst Cooks in America, Iron Chef America, Chopped, and many more. She has also authored multiple cookbooks like 'Flavors of My World,' 'The Journey,' and 'Chaat.' 
Currently, Maneet Chauhan is the co-owner of the famous restaurant in Nashville, Chauhan Ale and Masala House. She established it with her husband, Vivek Deora, in August 2014. She is also the co-founder of Nashville's Morph Hospitality Group.
Husband and Children 
Maneet Chauhan has been married to Vivek Deora for 14 years. The couple first met while studying at Manipal University and eventually fell in love. They were in a relationship for a long time and endured long-distance before finally taking marriage vows on 28 May 2007. 
On her 14th wedding anniversary, Maneet posted a video featuring her husband and children on her Instagram handle @maneetchauhan.
She is a mother of two children – a daughter, Shagun, born in 2012, and a son, Karma, born in 2015. 
Weight Loss
Chauhan also has an inspiring weight loss journey. 
During her interview with Parade, she said, "It was important for me to be healthy not only for the way I look or feel but also for the message that I was sending to my kids. I was telling them it's OK to be overweight and not take care of yourself, and that's not the message I want to send them."
For her journey, she took the help of an application called myfitnesspal. It helped her count the calories in her food and kept it under 1200 per day. She also followed some exercise routines from the app and walked 1,000 steps every day and achieved her goal without going for any weight loss surgery.
Net Worth
The celebrity chef has dedicated over 20 years of her life to the culinary profession and TV shows. Though her exact net worth is not available, it may be assumed that she must have accumulated decent wealth to date, from her restaurants, hosting cooking shows, appearance as a judge, and writing books.